Where reliability and quality meet
Our exclusive features make Genesis water softeners the best solution for your family.
1" Control Valve


1"control valve with electronic sensors, adjustable cycles, and proven ceramic disc.

Premium Resin from North America


This system contains 10% Crosslink Aldex resin manufactured in North America

Backed by the Best Warranty


Lifetime control head/valve warranty as well as Lifetime tank warranty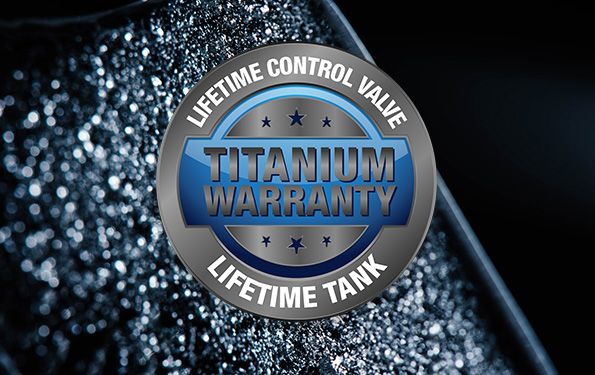 Don't just get a water softener. Get a Genesis.
The ONLY lifetime warranty water softener available on the internet.
Genesis 2 Select 1' downflow system has larger internals as other standard water softeners such as the 3/4" Fleck 5600SXT and adds a lifetime control valve warranty at the same time. Most other standard water softener warranties leave you high and dry after 5 years. Not with our Genesis Select models.
Control Valve
Our Exclusive Genesis 2 water softeners revolutionize the reliability of water softener control valves. Other models use rubber seals along with a moving piston. The piston/seal design has been used for many years because it works. With the Genesis 2 systems we have eliminated the seals that can wear or tear and need replacement so they work BETTER. The Genesis 2 lineup uses just 2 cereamic discs internally so there is nothing to wear or tear and need replacing.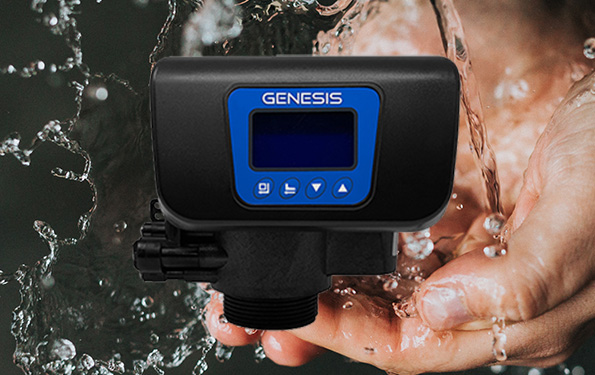 Model Comparison
| | 24,000 | 32,000 | 40,000 | 48,000 | 64,000 | 80,000 | 96,000 |
| --- | --- | --- | --- | --- | --- | --- | --- |
| Estimated People in Home* | 1-2 | 1-2 | 2-3 | 3-4 | 4-5 | 5-6 | 6-7 |
| Estimated Number of Bathrooms | 1 | 1-2 | 2-3 | 2-4 | 3-5 | 3-6 | 4-7 |
| Service Flow Rate @ 15 psi Pressure Drop | 12 GPM | 16 GPM | 18 GPM | 19 GPM | 20 GPM | 21 GPM | 22 GPM |
| Required Backwash Rate | 1.8 GPM | 2 GPM | 2.4 GPM | 2.4 GPM | 3.5 GPM | 4 GPM | 5 GPM |
| Salt Used - Regeneration | 10 lbs | 12 lbs. | 15 lbs. | 18 lbs. | 24 lbs. | 30 lbs. | 36 lbs. |
| Water Used - Regeneration | 58 gal | 71 gal. | 89 gal. | 89 gal. | 114 gal. | 134 gal. | 149 gal. |
| Overall Dimensions (W x D x H) | 26x13x52 | 26x13x52 | 27x13x56 | 28x13x62 | 31x18x59 | 31x18x61 | 31x18x74 |
*Sizes are estimated based on actual water quality. Testing your water will assure properly sized systems
Even More Reasons to Love Genesis...
You and your family will not need to worry about downtime or service calls

Over 1 Million Tanks Sold with Zero returns

Backwash can be adjusted for clean municipal water saving you water and money over time.

Soft Water Brine Tank Refill keeps the brine tank and injectors cleaner

Engineered and assembled in the U.S.
What's Included
Genesis Select On Demand Metered 1" Control

10% Crosslink Aldex Resin Made in North America

3/4" and 1" unique bypass with integrated turbine meter

Resin tank with large brine tank holds over 200lbs of salt.

Salt Grid prevents salt bridging

Safety Overflow float assembly
| | |
| --- | --- |
| Regeneration Type | Meter Initiated |
| Electrical Power Requirements | 120v/60hz |
| Warranty | Lifetime year control head/valve warranty, lifetime tank warranty, and 10 year resin warranty. |
Review this product
Share your thoughts with other customers
Write a Review
Very pleased with the softener. Bought from Discount, because I could not find any info, about Water Softeners at Lowes, Home Depot, and Menards. Discount was able to answer my questions and tell me what I needed. YOU TUBE Instructional video, provided by Discount, was very good. I had no problems installing the Genesis, which was a replacement for my old, no-longer working softener. I would recommend buying the drain tube from Discount, it is a hard to find size.

Very please with the customer support and the installation. I was replacing a GE unit that I bought at Home depot. I called Discount and decided on the Genesis. The unit is compact and is working well. If your looking for a new water softener call Discount.

Really impressed with this watersoftner. Commercial grade quality for a great price. Was disappointed with my prior purchase from local Home Depot and found Discount Water Softeners online. Setup was easy and YouTube videos were a plus. Looking forward to having the system for a long time.

Came shipped nice. The only complaint I have is when I bought the system I wasn't reminded or offered to by the drain hose, so I had to wait to install the system

My last review was completed on a cell phone and I see now lots of auto correct screwups. I have 8.13 iron and 5.66 PH hardness only 2.5. I have my water tested every few years and it has remained stabile over the past 25 years. The 32000 Lancaster softener in place now for over 25 years still working fine. The ironic part based on what I could see of proper system placement, the softener was installed prior to the acid neutralizer chemical feeder, but also turns out a blessing. I started researching (along with a neighbor) interested in updating as well over 2 years ago. As with most things something pops up and because were not really having an issue it gets put on the back burner. At any rate, ALL but 2 companies stated I could NOT possibly treat 8.13 of Iron with a softener, just wont work. Additionally ALL but 2 companies stated that the Chemical soda ash feeder NEEDED to be installed PRIOR to ANY iron treatments and low PH of 5.66 adjusted prior to treating for hardness or Iron, not after as it was installed so many years ago. My dilemma as well as my neighbors was "WHY" have we not had any issues of iron staining over 25 years but now all the sudden we needed to install a Air Iron remover, that goes through a backwash wasting 100 gallon of water daily? Additionally advised that due to 8.13 iron that I would need to take apart and clean some parts on the head unit control valve of the Air control yearly. I'm a person that asks a ton of questions NEEDEING to know and understand before I spend hard earned money. MANY companies sell water treatment systems, BUT when put to task FEW companies really know their equipment and are able to answer direct questions. Of all the companies contacted ONLY 2 Discount being the 1st, was HONEST and forthcoming and immediately explained to me how and why my system worked so well over the years. Turns out a softener is able to handle a large CLEAR iron level (IF) the PH is super low. So (IF) the Chemical feeder were connected prior to the softener my or the neighbors system would not have worked more then a few months. My intent was to initially purchase a Iron/Pro dual iron and softener in one unit. Speaking to the Discount Softener Tech TOM, he suggested a waste of money, being as I would also like to now add a 1" or two of conditioned water to top off the pool throughout the summer. He suggested Iron pro not needed, just get a larger 48000 downflow softener. After getting off the phone and looking at their softeners on their site and reading about the newer technology Genesis UPFLOW system, I decided that would be the way to go. Prior to ordering I called back again, and per my request was connected directly to the Tech Tom. He stated because I will be utilizing the softener as a iron remover, suggested don't fix what isn't broke, just stick with the 500 less costly Genesis downflow. Again I thought about it a day or so and then placed that order. As impossible as it would seem, everything arrived in just 2 days. The install was straight forward, could of taken me an hour or so, but spent more time then really needed cleaning up and repositioning the new tank and salt tank. Because of nerve damage in my arm, took me about as long to transfer the salt that my wife had just filled from the old tank to the new. I had a few questions after the install, being a weekend I emailed. That Monday I received a response back answering ALL questions. After setting up the control and the initial backwash, I didn't get that somewhat slime feeling when soaping in the shower, that was one of my questions. Thought was (possibly) the salt brine not strong enough that I had transferred over from the initial old tank. So that night I ran a second backwash. This corrected it immediately and this now persists throughout the week rather then just a day or so with my 25 year old unit after a backwash. Bottom line the system works extremely well, and I'm ecstatic with the information, knowledge I learned speaking to Discount staff as well as Tom. OH reason they won out over the 1 other company that supported a softener could be used in this fashion? Once they spoke to me and stated what they felt I should do, I called and left a voicemail as well as a follow up email of questions I needed clarity on. No phone call or email back for 3 days so I tried sending a second email. The response was I took the time to explain to me what I should get, no need to discuss it further. Got to admit, he's right, he can keep his softener, not a company I choose to support.

Super easy process start to finish. Soft water again. Very pleased with the results.


I like to do things once right and be done. So yes, some feel I'm a pain in the butt asking questions, but honestly, I just like to ask all questions first and then... Great experience for buyer and seller. Only 2 companies were honest, and Tom and your company won out because of integrity of seems everyone that works there, you all work as a team rather than individuals which is always what I try to do in my department, I'm the supervisor yes, BUT NO one works for me, they ALL work with me. So congrats for being part of a standup company!

Respectfully: Rich

I bought the Genesis Select softener in conjunction with the Genesis Ozone Chemical Free Iron Filter to clear up my hard, mineral heavy water situation. I had water that was 34 GPG hard, had iron at 6.24 mg/l and .984 mg/l of manganese. So far, after 1 weeK, the system is working perfectly. I greatly appreciate the assistance of Alyssa and the support team in making sure I got the right equipment for my situation and making sure I got it up and running properly. I would highly recommend Discount Water Softeners for their product, pricing, tech support and customer focus.

New install of Genesis Select

So far so good. The unit has only been in service for a day or so. The content of the packages were just as I expected, looks good, quality, the interface of the value head is fairly simple. I did the install myself and was uncertain at several junctures, but was pleasant to find that after the initial salt soak and start up for service, all seems to be operating correctly. My only criticism would be the instruction side. Discount has been available and wonderful, but I found that the instructions are a little disjointed. Rather than one simple and clear install manual, I had to look to a verity of sources and align them. But, for the first time installing a softener, I made it through.