Where efficiency and quality meet
Our exclusive features make Genesis water softeners the best solution for your family.



Highest Flow Control Valve on the Market


New! 1 1/4"control valve with electronic sensors, adjustable cycles, and proven ceramic disc. The only 1.25" valve you can buy on the internet.

Premium Resin from North America


This system contains 10% Crosslink Aldex resin manufactured in North America

Backed by the Best Warranty


Lifetime control head/valve warranty, Lifetime tank warranty and 10 year resin warranty.
The ONLY 1.25" Upflow water softener available for high flow on the internet.
Save Money and Salt with a Genesis.
Genesis 2 High Efficiency Upflow Softeners can save you a significant amount of money in salt over traditional downflow systems such as the Fleck 5600SXT.
Our Exclusive Genesis 2 Upflow On Demand metered digital water softener is an UpFlow water softening system that sets the new standard for high-performance while offering more features designed to make installation easier and faster than ever. All while saving you up to 75%** on salt and 64% less water.
| Size | Fleck 5600SXT Downflow Salt Usage | Genesis Upflow Salt Usage | Your Savings* |
| --- | --- | --- | --- |
| 32,000 grains | 11,700 lbs / 293 bags | 4680 lbs / 117 bags | $1,173.92 |
| 40,000 grains | 14,625 lbs / 365 bags | 5850 lbs / 147 bags | $1,454.06 |
| 48,000 grains | 17,550 lbs / 439 bags | 7020 lbs / 176 bags | $1,754.21 |
| 64,000 grains | 23,400 lbs / 585 bags | 9,360 lbs / 234 bags | $2,341.17 |
| 80,000 grains | 29,250lbs / 732 bags | 11,700 lbs / 293 bags | $2,928.13 |
| 96,000 grains | 35,100lbs / 878 bags | 14,440 lbs / 351 bags | $3,515.09 |
*Over a 15 year period. Based on a 40 lb. bag of salt costing $6.67. **May be lower with 10% crosslink resin
---
Model Comparison
| | 24,000 | 32,000 | 40,000 | 48,000 | 64,000 | 80,000 | 96,000 |
| --- | --- | --- | --- | --- | --- | --- | --- |
| Estimated People in Home* | 1-2 | 1-2 | 2-3 | 3-4 | 4-5 | 5-6 | 6-7 |
| Estimated Number of Bathrooms | 1 | 1-2 | 2-3 | 2-4 | 3-5 | 3-6 | 4-7 |
| Service Flow Rate @ 15 psi Pressure Drop | 12 GPM | 16 GPM | 18 GPM | 19 GPM | 20 GPM | 21 GPM | 22 GPM |
| Required Backwash Rate | 1.8 GPM | 2 GPM | 2.4 GPM | 2.4 GPM | 3.5 GPM | 4 GPM | 5 GPM |
| Salt Used - Regeneration | 5 lbs | 6 lbs. | 7.5 lbs. | 9 lbs. | 12 lbs. | 15 lbs. | 18 lbs. |
| Water Used - Regeneration | 38.6 | 43.4 gal. | 62.7 gal. | 62.7 gal. | 87.1 gal. | 114 gal. | 139.2 gal. |
| Overall Dimensions (W x D x H) | 26x13x52 | 26x13x52 | 27x13x56 | 28x13x62 | 31x18x59 | 31x18x61 | 31x18x74 |
*Sizes are estimated based on actual water quality. Testing your water will assure properly sized systems
---
Even More Reasons to Love Genesis...
Family of 4 will save 6,480 lbs. of salt and 28,900 gallons of water versus downflow water softeners

Soft Water Recharge Mode ensures soft water during usually heavy water usage

Reverse Flow Regeneration preserves unused softening bed from unnecessary exchange saving salt

Upflow Brining calculates the precise amount of salt brine required to regenerate saving up to 30% more salt

Over 1 Million Tanks Sold with Zero returns

Automatic Backwash Variable Preset for clean municipal water by matching backwash frequency to water quality need saving you up to 2000 gallons of water annually

Soft Water Brine Tank Refill keeps the brine tank and injectors cleaner

Automatic System Refresh flushes stagnant water after 7 days of non-use preventing bacterial growth

Engineered and assembled in the U.S.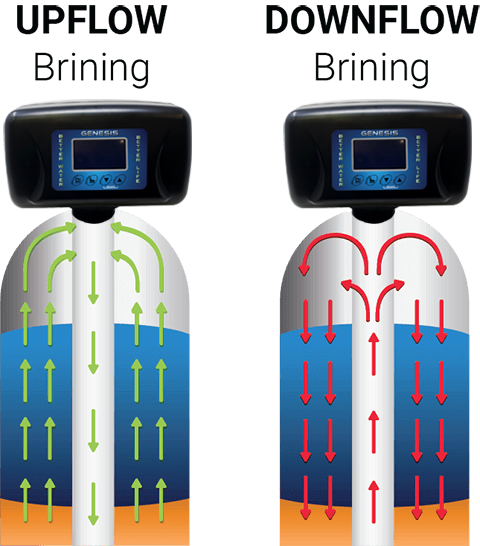 Rethinking Regeneration.
Upflow regeneration allows for a more precise recharge of the resin allowing the system to only recharge the depleted resin.
Upflow regeneration also drives hardness away from the resin to the drain instead of downflow that forces "dirty" water through the clean charged resin.
If the system drops below 3% a short recharge will restore the system to get to the regular 2:00 AM delayed regeneration time.
Green Technology that reduces salt discharge by as much as 75%.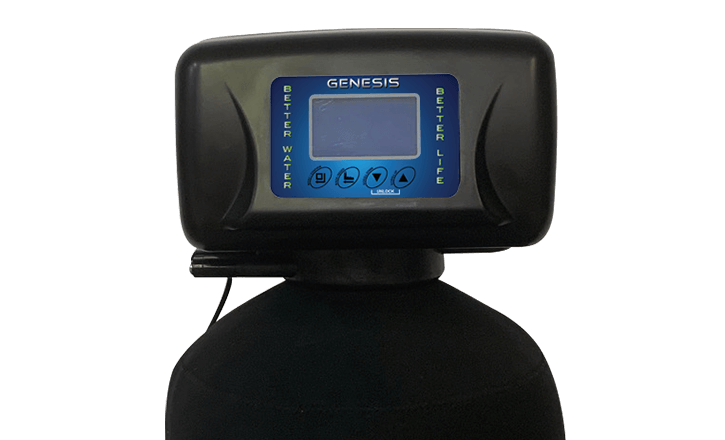 Valve Head
Utilizes a 30 year proven internal ceramic disc. No more torn or worn seals.
Advanced smart digital control provides precise brining customized to your water source reducing salt usage by as much as 45%.
Selective backwashing reduces water usage by up to 64% over standard water softeners.
Soft water brine refill keeps your brine tank cleaner and control head running smoother.
What's Included
Genesis Premier Upflow On Demand Metered 1 1/4" Control

10% Crosslink Aldex (Highest Durability and Capacity) Resin

3/4" and 1" unique bypass with integrated turbine meter

Resin tank with large brine tank holds over 200lbs of salt.

Tank Tux Jacket reduces tank sweating

Salt Grid prevents salt bridging

Safety Overflow float assembly
| | |
| --- | --- |
| Regeneration Type | Meter Initiated |
| Electrical Power Requirements | 120v/60hz |
| Warranty | 10 year control head/valve warranty, lifetime tank warranty, and 10 year resin warranty. |
Review this product
Share your thoughts with other customers
Write a Review
Had hauge water softener out to my newly baught home and to rent one of their water softeners would have cost me 70.00 a month plus 360.00 installation. If I would have baught out right almost 4,000.00. I started researching and came across this one. Was pretty simple to install on our own. The brine tank was all messed up but we simply reattach the bottom cap. I think it's doing a pretty good job. I wish they would have sent water testing kit with it though because I'm not positive until I buy one to test water so I can't review and be 100% honest about water quality right now! My hair is doing alot better however!!!

Genesis 2 Premier 1.25 upflow 32,000 grain

My softener has been in service for about a week now. I will share my experience, just in case someone else encounters the same thing. After installation I put the system into immediate operation with no pre-charge. After a few days the observation was no soft water was being produced. I then initiated a regenerate cycle. I monitored this operation and was very pleased with the operation with all the cycles, and especially the backwash, the volume and force it exhibited. From what I have read this is crucial for preparing the resin bed for the next period of use. Thanks!

would give more than 5 stars if possible, low head loss and high flow rate are a definite bonus. Sold last one with the house so this is going into our new house, can't wait.

genesis-2-premier-upflow-high-efficiency

Outstanding Product

Genesis 2 Premier 1.25 upflow high efficiency water softener 32,000gr

The softener was very easy to install and get up and running. Only had in service for 3 days, but so far it is working great.
Purchasing from Discount Water Softeners was very easy. They answered any questions I had and the delivery was quick and just as advertised.
Very satisfied.

Noticed the difference instantly! Installation was easy, but had some confusion with the variances in all the different installation videos and manuals. Overall I highly recommend.


Easy install, after going to Ace to get brine line.

Finally got around to installing my Genesis 2 Premier system. After getting all the boxes opened, the brining line was not included. Ran to Ace and picked up some appropriate hose and we are in business. Very impressed overall with the quality. I have had a $3990 Kinetico system before and this seems just as well made for about a third of the price. All is good.

Genesis 2 Premier Upflow Water Softener

Based on my research, I estimate that I saved about $1,500 on the purchase of my Genesis 2 Premier Upflow water softener from Discount Water Softeners when compared to the large companies with salesmen and installers. There was sufficient information on the DSW Web site for me to make a decision on which water softener to purchase, this includes the specs for each water softener, the online videos, and manuals. Comparing the quality of the various companies' water softeners included considering their warranties, I concluded that my purchase was the best choice for me. The installation manuals were adequate to get the softener installed but they probably could use another update to make the various steps clearer and more concise. But, overall, they helped to get the job done and the water softener is up and running. My water hardness tests, before and after, clearly show that the softener is doing its job. By the way, the purchase process was easy, shipment, and delivery were as promised.

Genesis 2 Premier Upflow High Efficiency 1.25" Water Softener

Replaced an old timer based unit. Install was easy. The quick connect hoses are really convenient. The use of the hoses however, does require the tank to be a significant distance from the wall. Not really the best solution for tight spaces.