Where efficiency and quality meet
Our exclusive features make Genesis water softeners the best solution for your family.



Highest Flow Control Valve on the Market


New! 1 1/4"control valve with electronic sensors, adjustable cycles, and proven ceramic disc. The only 1.25" valve you can buy on the internet.

Premium Resin from North America


This system contains 10% Crosslink Aldex resin manufactured in North America

Backed by the Best Warranty


Lifetime control head/valve warranty, Lifetime tank warranty and 10 year resin warranty.
The ONLY 1.25" Upflow water softener available for high flow on the internet.
Save Money and Salt with a Genesis.
Genesis 2 High Efficiency Upflow Softeners can save you a significant amount of money in salt over traditional downflow systems such as the Fleck 5600SXT.
Our Exclusive Genesis 2 Upflow On Demand metered digital water softener is an UpFlow water softening system that sets the new standard for high-performance while offering more features designed to make installation easier and faster than ever. All while saving you up to 75%** on salt and 64% less water.
| Size | Fleck 5600SXT Downflow Salt Usage | Genesis Upflow Salt Usage | Your Savings* |
| --- | --- | --- | --- |
| 32,000 grains | 11,700 lbs / 293 bags | 4680 lbs / 117 bags | $1,173.92 |
| 40,000 grains | 14,625 lbs / 365 bags | 5850 lbs / 147 bags | $1,454.06 |
| 48,000 grains | 17,550 lbs / 439 bags | 7020 lbs / 176 bags | $1,754.21 |
| 64,000 grains | 23,400 lbs / 585 bags | 9,360 lbs / 234 bags | $2,341.17 |
| 80,000 grains | 29,250lbs / 732 bags | 11,700 lbs / 293 bags | $2,928.13 |
| 96,000 grains | 35,100lbs / 878 bags | 14,440 lbs / 351 bags | $3,515.09 |
*Over a 15 year period. Based on a 40 lb. bag of salt costing $6.67. **May be lower with 10% crosslink resin
---
Model Comparison
| | 24,000 | 32,000 | 40,000 | 48,000 | 64,000 | 80,000 | 96,000 |
| --- | --- | --- | --- | --- | --- | --- | --- |
| Estimated People in Home* | 1-2 | 1-2 | 2-3 | 3-4 | 4-5 | 5-6 | 6-7 |
| Estimated Number of Bathrooms | 1 | 1-2 | 2-3 | 2-4 | 3-5 | 3-6 | 4-7 |
| Service Flow Rate @ 15 psi Pressure Drop | 12 GPM | 16 GPM | 18 GPM | 19 GPM | 20 GPM | 21 GPM | 22 GPM |
| Required Backwash Rate | 1.8 GPM | 2 GPM | 2.4 GPM | 2.4 GPM | 3.5 GPM | 4 GPM | 5 GPM |
| Salt Used - Regeneration** | 6.75 lbs | 9 lbs. | 11.25 lbs. | 13.5 lbs. | 18 lbs. | 22.5 lbs. | 27 lbs. |
| Water Used - Regeneration | 38.6 | 43.4 gal. | 62.7 gal. | 62.7 gal. | 87.1 gal. | 114 gal. | 139.2 gal. |
| Overall Dimensions (W x D x H) | 26x13x52 | 26x13x52 | 27x13x56 | 28x13x62 | 31x18x59 | 31x18x61 | 31x18x74 |
*Sizes are estimated based on actual water quality. Testing your water will assure properly sized systems
**Salt dosing may vary depending on overall water quality.
---
Even More Reasons to Love Genesis...
Family of 4 will save 6,480 lbs. of salt and 28,900 gallons of water versus downflow water softeners

Soft Water Recharge Mode ensures soft water during usually heavy water usage

Reverse Flow Regeneration preserves unused softening bed from unnecessary exchange saving salt

Upflow Brining calculates the precise amount of salt brine required to regenerate saving up to 30% more salt

Over 1 Million Tanks Sold with Zero returns

Automatic Backwash Variable Preset for clean municipal water by matching backwash frequency to water quality need saving you up to 2000 gallons of water annually

Soft Water Brine Tank Refill keeps the brine tank and injectors cleaner

Automatic System Refresh flushes stagnant water after 7 days of non-use preventing bacterial growth

Engineered and assembled in the U.S.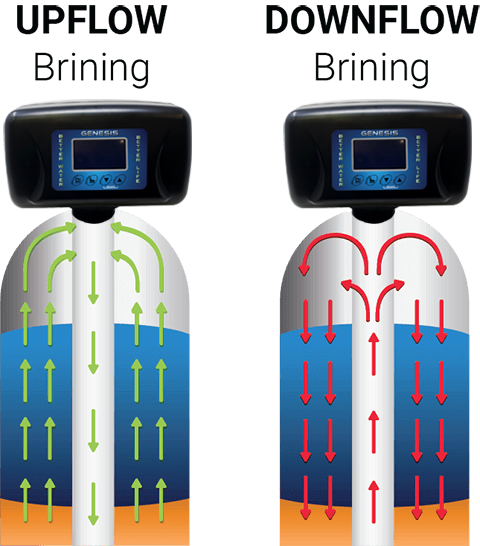 Rethinking Regeneration.
Upflow regeneration allows for a more precise recharge of the resin allowing the system to only recharge the depleted resin.
Upflow regeneration also drives hardness away from the resin to the drain instead of downflow that forces "dirty" water through the clean charged resin.
If the system drops below 3% a short recharge will restore the system to get to the regular 2:00 AM delayed regeneration time.
Green Technology that reduces salt discharge by as much as 75%.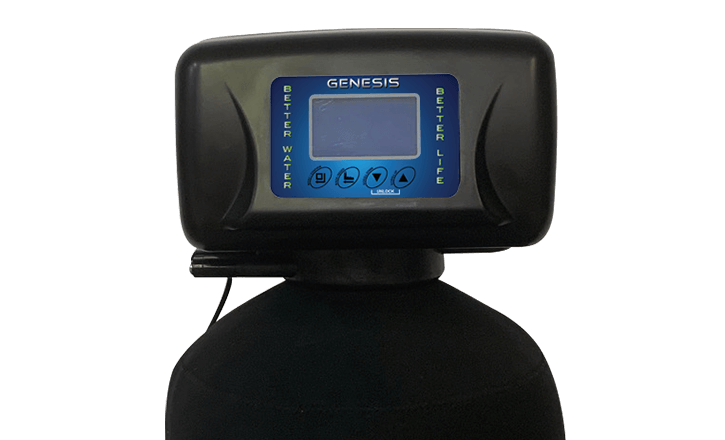 Valve Head
Utilizes a 30 year proven internal ceramic disc. No more torn or worn seals.
Advanced smart digital control provides precise brining customized to your water source reducing salt usage by as much as 45%.
Selective backwashing reduces water usage by up to 64% over standard water softeners.
Soft water brine refill keeps your brine tank cleaner and control head running smoother.
What's Included
Genesis Premier Upflow On Demand Metered 1 1/4" Control

10% Crosslink Aldex (Highest Durability and Capacity) Resin

3/4" and 1" unique bypass with integrated turbine meter

Resin tank with large brine tank holds over 200lbs of salt.

Tank Tux Jacket reduces tank sweating (Currently shipping tank jackets without Genesis Logo)

Salt Grid prevents salt bridging

Safety Overflow float assembly
| | |
| --- | --- |
| Regeneration Type | Meter Initiated |
| Electrical Power Requirements | 120v/60hz |
| Warranty | Lifetime year control head/valve warranty, lifetime tank warranty, and 10 year resin warranty. |
Review this product
Share your thoughts with other customers
Write a Review
This water softener is the best item I've bought in the last 20 years because:
- The manufacturing quality of the unit is exceptional.
- The shipping was quick with the product being well protected.
- The instructional videos were well done with a lot of pertinent information.
- One minor knock is that the written instructions are a little dated and don't always show the current iteration of the product. But the "startup" section was incredibly well done.
- I bought the connection kit and installed the unit in 30 minutes. But I have done a lot of DIY plumbing over the years and my house was already plumbed with a closed loop for my old water softener.
- The unit works incredibly well. I only have the paper strip hardness testers but my GPG went from 17 (as reported by my water utility company) to zero as the test strip didn't even change color.
- I had a couple of questions for customer service that I sent in via the website and I received an email answer the next morning that resolved my issues.
- Everyone in the house loves the "new water."
- I can't speak to the durability of the unit yet but with the high manufacturing quality of the unit I sense that it will last quite a while.
I wasn't compensated in any way for my review.

I haven't installed this one yet since it is on my new home going up. If this one is as good as my last one I bought from you I will be very happy. I had one in my last house and it was super efficient. In the past five years installed one in my house
My son's house
My friends house
We never had any problems with any of them. I had a different (Big name) brand in an earlier home and had to replace multiple parts on it constantly.

Genesis 2 softener system

As another recent reviewer stated..."what could go wrong with ordering a complete water softener system on line"...NOTHING if you order it from Discount Water.
After a considerable amount of time spent looking at different companies and reading all of the pros and cons of each and every water softener I could find. I settled on the Genesis 2 system due to the most positive reviews by recent purchasers, not only the system but the positive reviews of Discount Water Systems. So on a Monday morning I decided to contact and order the Genesis 2. I first encountered Kelly on the phone which was bright and cheery and professional, Kelly introduced me to Brenda which was not only as pleasant, and friendly, as it turned out she knew her product/job extremely well. Brenda explained all of my concerns and provided me with all the answers I needed including convincing me I needed a smaller system than what I thought I required. Again, (in my opinion and in today's world it is hard to find an employee that actually knows what they are talking about AND AS BONUS saved me money and did not let me purchase a system I did not need.) On Friday of the same week I received my Genesis 2 system. I have to say I was impressed. I had the plumbing work completed by professional because they had to connect from the water main and run lines into my garage. I completed the hook-up with flex shark bite lines from local Home Depot, programmed the system, had one question, made one phone call to Kelly, again same professional demeanor. Questioned answered, programming done. All together, from opening the 2 delivered boxes, installing the control head and other miscellaneous equipment and the shark bites maybe and hour at best. I could not be more satisfied with the Genesis 2 system or Discount Water. They say what they do and do what they say...what a novel concept. My wife is happy and you know the saying, happy wife happy life.


I am very pleased with my first purchase from Discount Water Softeners. As a Dyi product I highly recommend. Installation videos walk you easily thru installation, programing unit was quick & easy. Thumps up to Discount Water Softeners


Great water softener. Staff was friendly and helpful to size the unit appropriately. Unit arrived in 2 days and was easy to install.

not too hard to install...and directions are fair to good. missing a washer, which i had in my on hand stock, so was an easy fix (brine tank discharge port). HIGHLY recommend a bypass system pre-softener (made from copper and shark-bite fittings which worked great) if anything ever goes wrong. only comment is the noise it puts out. new enough I'm not sure how it will be at 0200 but its in my mechanical room with the HVAC and duct noise transmission is a potential. that being said...it DOES put out soft water and is a noticeable difference over our 'expired' sears unit. did not get the cover for the tank but there was a slip saying it would eventually be shipped. all in all im glad i went this diy route and would recommend this water softener.

The people at Discount Water Softener's are great to work with and very helpful. I ordered the Genesis 2 Upflow High Efficiency 1.25" Water Softener. It was order on a Sunday and had it by Wednesday. Easy installation and good instructions to follow. The unit works great. Water is very soft and met my expectation's. Still waiting on cylinder cover that was on back-order.

I purchased the premier upflow system a couple months ago. I am married with three children. We purchased the 80,000 grain unit. We also live in Indianapolis where we have very hard water at around 20 to 25 grains per gallon. Without a softener, pretty much any appliance or bath fixture would immediately become calcified and disgusting. The winters are very dry obviously in Indiana and so hard water during that time also makes me have significant issues with eczema. This is the first water softener that we have had the finances to be able to afford. We installed this unit about three months ago. Within just a couple hours the hardness of the water went from 20-25 grains per gallon to undetectable on a dip test. Our dishwasher that had a chrome inside, we hand washed and got all the grime off and since then it has been perfectly shiny with not a single spot of calcium buildup. I loaded four bags of solar salt into the unit 2 1/2 months ago. It is still half full, which demonstrated this is an incredibly efficient unit because at that rate we will only be using about 10 to 15 bags of salt per year for a family of five! So far so good with this unit. I don't think I could ask for a better result. As for the longevity of the unit I clearly can't comment on but it seems incredibly well built in reliable so far. Thank you for making such a good product.

A word of advice to the manufacturers, please make your instruction manual better. The pictures were terrible and low quality. The step-by-step instructions were poor. Either make the Instruction manual much better with clear pictures and step-by-step instructions or release a YouTube video where you go over the entire process from start to finish with each step outlined. This is 2020. We should not have issues with quality pictures and instructions when we have essentially free resources like YouTube readily available to everybody. I did have issues with a certain step that was not well outlined in the manual whatsoever but is vitally important so I called the company. They were very responsive and helped me quickly. Thank you for that, but the instructions really should be better.

Genesis 2 Premier Water Softener

First time user of a water softener. Easy to install, impressed with the quality of the system and the warranty.