Where efficiency and quality meet
Our exclusive features make Genesis water softeners the best solution for your family.



Highest Flow Control Valve on the Market


New! 1 1/4"control valve with electronic sensors, adjustable cycles, and proven ceramic disc. The only 1.25" valve you can buy on the internet.

Premium Resin from North America


This system contains 10% Crosslink Aldex resin manufactured in North America

Backed by the Best Warranty


Lifetime control head/valve warranty, Lifetime tank warranty and 10 year resin warranty.
The ONLY 1.25" Upflow water softener available for high flow on the internet.
Save Money and Salt with a Genesis.
Genesis 2 High Efficiency Upflow Softeners can save you a significant amount of money in salt over traditional downflow systems such as the Fleck 5600SXT.
Our Exclusive Genesis 2 Upflow On Demand metered digital water softener is an UpFlow water softening system that sets the new standard for high-performance while offering more features designed to make installation easier and faster than ever. All while saving you up to 75%** on salt and 64% less water.
| Size | Fleck 5600SXT Downflow Salt Usage | Genesis Upflow Salt Usage | Your Savings* |
| --- | --- | --- | --- |
| 32,000 grains | 11,700 lbs / 293 bags | 4680 lbs / 117 bags | $1,173.92 |
| 40,000 grains | 14,625 lbs / 365 bags | 5850 lbs / 147 bags | $1,454.06 |
| 48,000 grains | 17,550 lbs / 439 bags | 7020 lbs / 176 bags | $1,754.21 |
| 64,000 grains | 23,400 lbs / 585 bags | 9,360 lbs / 234 bags | $2,341.17 |
| 80,000 grains | 29,250lbs / 732 bags | 11,700 lbs / 293 bags | $2,928.13 |
| 96,000 grains | 35,100lbs / 878 bags | 14,440 lbs / 351 bags | $3,515.09 |
*Over a 15 year period. Based on a 40 lb. bag of salt costing $6.67. **May be lower with 10% crosslink resin
---
Model Comparison
| | 24,000 | 32,000 | 40,000 | 48,000 | 64,000 | 80,000 | 96,000 |
| --- | --- | --- | --- | --- | --- | --- | --- |
| Estimated People in Home* | 1-2 | 1-2 | 2-3 | 3-4 | 4-5 | 5-6 | 6-7 |
| Estimated Number of Bathrooms | 1 | 1-2 | 2-3 | 2-4 | 3-5 | 3-6 | 4-7 |
| Service Flow Rate @ 15 psi Pressure Drop | 12 GPM | 16 GPM | 18 GPM | 19 GPM | 20 GPM | 21 GPM | 22 GPM |
| Required Backwash Rate | 1.8 GPM | 2 GPM | 2.4 GPM | 2.4 GPM | 3.5 GPM | 4 GPM | 5 GPM |
| Salt Used - Regeneration | 5 lbs | 6 lbs. | 7.5 lbs. | 9 lbs. | 12 lbs. | 15 lbs. | 18 lbs. |
| Water Used - Regeneration | 38.6 | 43.4 gal. | 62.7 gal. | 62.7 gal. | 87.1 gal. | 114 gal. | 139.2 gal. |
| Overall Dimensions (W x D x H) | 26x13x52 | 26x13x52 | 27x13x56 | 28x13x62 | 31x18x59 | 31x18x61 | 31x18x74 |
*Sizes are estimated based on actual water quality. Testing your water will assure properly sized systems
---
Even More Reasons to Love Genesis...
Family of 4 will save 6,480 lbs. of salt and 28,900 gallons of water versus downflow water softeners

Soft Water Recharge Mode ensures soft water during usually heavy water usage

Reverse Flow Regeneration preserves unused softening bed from unnecessary exchange saving salt

Upflow Brining calculates the precise amount of salt brine required to regenerate saving up to 30% more salt

Over 1 Million Tanks Sold with Zero returns

Automatic Backwash Variable Preset for clean municipal water by matching backwash frequency to water quality need saving you up to 2000 gallons of water annually

Soft Water Brine Tank Refill keeps the brine tank and injectors cleaner

Automatic System Refresh flushes stagnant water after 7 days of non-use preventing bacterial growth

Engineered and assembled in the U.S.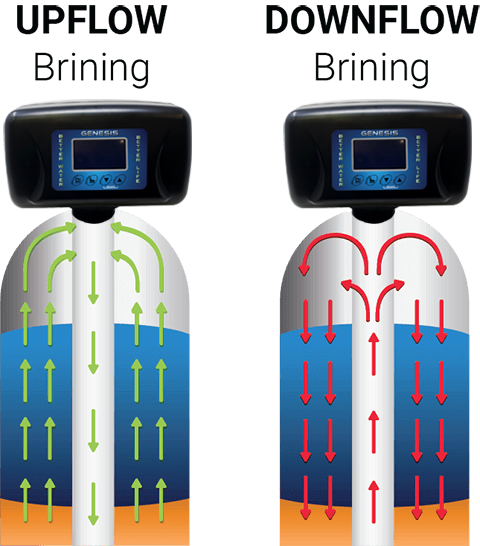 Rethinking Regeneration.
Upflow regeneration allows for a more precise recharge of the resin allowing the system to only recharge the depleted resin.
Upflow regeneration also drives hardness away from the resin to the drain instead of downflow that forces "dirty" water through the clean charged resin.
If the system drops below 3% a short recharge will restore the system to get to the regular 2:00 AM delayed regeneration time.
Green Technology that reduces salt discharge by as much as 75%.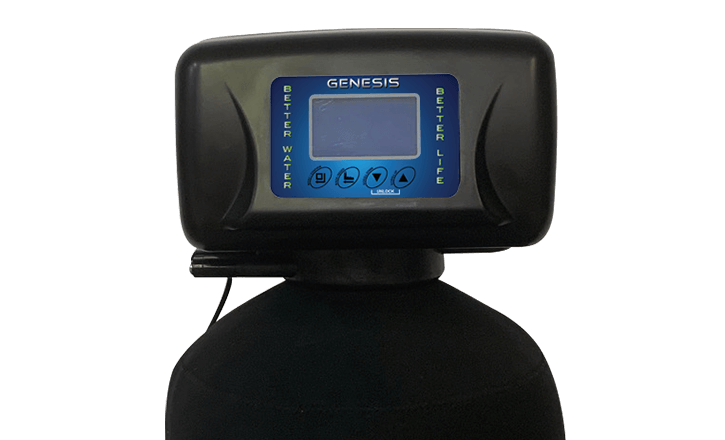 Valve Head
Utilizes a 30 year proven internal ceramic disc. No more torn or worn seals.
Advanced smart digital control provides precise brining customized to your water source reducing salt usage by as much as 45%.
Selective backwashing reduces water usage by up to 64% over standard water softeners.
Soft water brine refill keeps your brine tank cleaner and control head running smoother.
What's Included
Genesis Premier Upflow On Demand Metered 1 1/4" Control

10% Crosslink Aldex (Highest Durability and Capacity) Resin

3/4" and 1" unique bypass with integrated turbine meter

Resin tank with large brine tank holds over 200lbs of salt.

Tank Tux Jacket reduces tank sweating

Salt Grid prevents salt bridging

Safety Overflow float assembly
| | |
| --- | --- |
| Regeneration Type | Meter Initiated |
| Electrical Power Requirements | 120v/60hz |
| Warranty | 10 year control head/valve warranty, lifetime tank warranty, and 10 year resin warranty. |
Review this product
Share your thoughts with other customers
Write a Review
Works well but does not measure gallons used properly

In my installation (March, 2019) I added a meter inline from Assured Automation. Its readings match those at the street reasonably well, but are roughly double the readings from the control panel of the Genesis Premier. In other words, the Genesis numbers are low by about half.

Discount Water Softeners says that it will not register flows for low-flow devices, such as reverse osmosis or humidifiers, and "Less than 0.5 gpm or less may not read is what the manufacturer tells us". We do not have any of these, just usual sinks, shower, toilets, washer, and dishwasher.

As a result, the "Days to Regenerate" number is also wrong, starting at "6" for about two days, then "5" for another two days, etc. It typically regenerates after 10 or 11 days.

Discount Water Softeners says that "Fleck is the same. Below half gallon a minute does not always register. Been like that on most Softener meters for the last 20 years that I have been in water treatment.", so there is apparently nothing wrong with my unit. Still, would be nice to know this in advance rather than spend the time chasing it. DWS should put something on their site.

Genesis Premier High Efficiency Water Softener

Eagle County water is hard! About 20 grains. I do have a top of the line whole house filtration system providing delicious water. However, it does not remove calcium! Dishes out of the dishwasher had a white haze and water spots. After considerable research on salt-based water softeners with local companies and online, I found discount water softeners to be a great and economical option. With Bill's help, we decided the type and size. The order process was easy, the filter arrived in two days. That's when it got really amazing! Assembly was easy, instructions concise. The control unit easy to program and best of all the water quality is fantastic. Water spots are a thing of the past. When the ice melts in the water glass, no more particles on the bottom of the glass. Not to mention the shower door...
We had a slight concern about the water feeling soapy or too soft. That is absolutely not the case with this system since it is tunable to the hardness.
My overall rating from order to good water is a 10 of 10.

Ordering was quick and easy. Install was easy for one person. Operating well.
Recommend the Quick Connect option.

Genesis Premier High Efficiency Water Softener

The ordering process was wonderful. The rep I spoke with was very knowledgeable. He answered all my questions comparing the different models. My Softener was delivered in 2 days. I love the feel of having soft water. It's too early for me to tell about how efficient it is, but I am looking forward to saving salt.

Awesome customer support before and after buying. The Genesis system is fantastic! Easy to install with the connection kit they sell. The parts are all there with no real assembly needed. I opened the box and had it ready for installation in 2 minutes. Its been running now and it uses like no salt. Love this water softener. Already showed 2 relatives. Thank you again!!!

5 People & Really Hard Water

This softener has been amazing. I didn't think it would be able to handle the amount of people and hardness we had, but it's been working quite well. It was worth every penny, even though we paid thousands less than Culligan quoted us for a similar system.

Great product at a great price with easy installation

The installation was super easy, only took about 40 minutes. Programming was very simple, just a couple of minutes. Performance is great, very soft water with very low salt usage. I had one question, customer service was great. Overall 10 out of 10.


Excellent product at a very good price!

Have had this softer for a month now and it is working great! This is my 3rd softener in 30 years, first time with Genesis. It works better than any of the previous softeners and uses much less salt. My brother has a very expensive Kinectico system that works great. I was considering one just like his then I found Genesis. The Genesis works as well if not better than the Kinectico at 1/4 to 1/3 the price and has the same warranty. The folks at Genesis are there to work with too. I was very impressed how quickly the was system shipped and arrived. I promise you will be VERY pleased with the Genesis system!


I have very hard well water that didn't taste good and I was worried it would damage my new appliances so, I shopped around for water softeners before I settled on the Genesis Premier. The first system I found was $4k and the second was $1.7k for systems with less warranty and efficiency. Our Genesis Premier was under $1k delivered to my door. I had it up and running in under 1 hour. Now I love the taste of my tap water and my dishes come out of my dishwasher without those nasty hard water stains. Thank you for such a great and easy to install product.