Where efficiency and quality meet
Our exclusive features make Genesis water softeners the best solution for your family.
Family of 4 will save 6,480 lbs. of salt and 28,900 gallons of water versus downflow water softeners

This system contains 10% Crosslink Aldex resin manufactured in North America

7 year control head/valve warranty, Lifetime on Resin and Brine Tank

The ONLY 1.25" Upflow water softener available for high flow on the internet.
Save Money and Salt with a Genesis.
Genesis 2 High Efficiency Upflow Softeners can save you a significant amount of money in salt over traditional downflow systems such as the Fleck 5600SXT.
Our Exclusive Genesis 2 Upflow On Demand 1.25" metered digital water softener is an UpFlow water softening system that sets the new standard for high-performance while offering more features designed to make installation easier and faster than ever. All while saving you up to 75%** on salt and 64% less water.
| Size | Fleck 5600SXT Downflow Salt Usage | Genesis Upflow Salt Usage | Your Savings* |
| --- | --- | --- | --- |
| 32,000 grains | 11,700 lbs / 293 bags | 4680 lbs / 117 bags | $1,173.92 |
| 40,000 grains | 14,625 lbs / 365 bags | 5850 lbs / 147 bags | $1,454.06 |
| 48,000 grains | 17,550 lbs / 439 bags | 7020 lbs / 176 bags | $1,754.21 |
| 64,000 grains | 23,400 lbs / 585 bags | 9,360 lbs / 234 bags | $2,341.17 |
| 80,000 grains | 29,250lbs / 732 bags | 11,700 lbs / 293 bags | $2,928.13 |
| 96,000 grains | 35,100lbs / 878 bags | 14,440 lbs / 351 bags | $3,515.09 |
*Over a 15 year period. Based on a 40 lb. bag of salt costing $6.67. **May be lower with 10% crosslink resin
---
Model Comparison
| | 32,000 | 40,000 | 48,000 | 64,000 | 80,000 | 96,000 |
| --- | --- | --- | --- | --- | --- | --- |
| Estimated People in Home* | 1-2 | 2-3 | 3-4 | 4-5 | 5-6 | 6-7 |
| Estimated Number of Bathrooms | 2-3 | 3-4 | 3-4 | 3-5 | 4-6 | 4-7 |
| Service Flow Rate @ 15 psi Pressure Drop | 16 GPM | 18 GPM | 18 GPM | 20 GPM | 21 GPM | 22 GPM |
| Required Backwash Rate | 2 GPM | 2.4 GPM | 2.4 GPM | 3.5 GPM | 4 GPM | 5 GPM |
| Salt Used - Regeneration** | 9 lbs. | 11.25 lbs. | 13.5 lbs. | 18 lbs. | 22.5 lbs. | 27 lbs. |
| Water Used - Regeneration | 43.4 gal. | 62.7 gal. | 62.7 gal. | 87.1 gal. | 114 gal. | 139.2 gal. |
| Overall Dimensions (W x D x H) | 26x14x55 | 27x14x51 | 28x14x62 | 31x14x59 | 31x18x62 | 31x18x72 |
*Sizes are estimated based on actual water quality. Testing your water will assure properly sized systems
**Salt dosing may very depending on overall water qualities
---
Even More Reasons to Love Genesis...
Genesis Upflow On Demand control valve with electronic sensors, adjustable cycles, and proven ceramic disc design

Soft Water Recharge Mode ensures soft water during usually heavy water usage

Reverse Flow Regeneration preserves unused softening bed from unnecessary exchange saving salt

Upflow Brining calculates the precise amount of salt brine required to regenerate saving up to 30% more salt

Over 1 Million Tanks Sold with Zero returns

Automatic Backwash Variable Preset for clean municipal water by matching backwash frequency to water quality need saving you up to 2000 gallons of water annually

Soft Water Brine Tank Refill keeps the brine tank and injectors cleaner

Automatic System Refresh flushes stagnant water after 7 days of non-use preventing bacterial growth

Engineered and assembled in the U.S.
---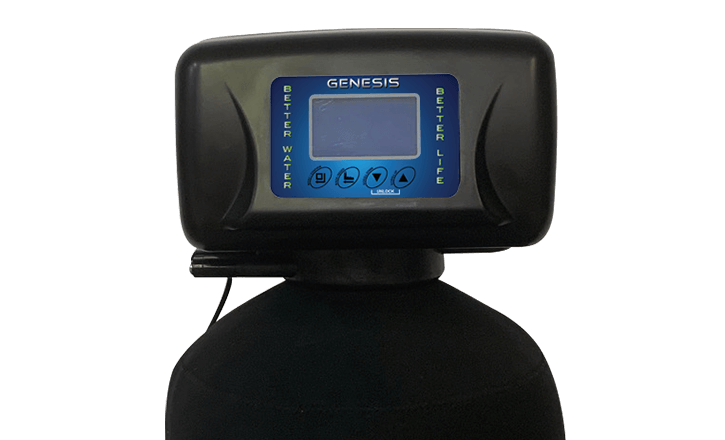 Valve Head
Utilizes a 30 year proven internal ceramic disc design. Now with an enhanced piston stabilizer and seal design.
Advanced smart digital control provides precise brining customized to your water source reducing salt usage by as much as 45%.
Selective backwashing reduces water usage by up to 64% over standard water softeners.
Soft water brine refill keeps your brine tank cleaner and control head running smoother.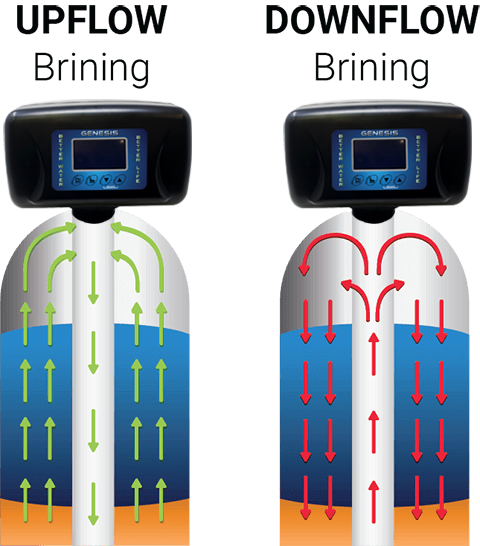 Rethinking Regeneration.
Upflow regeneration allows for a more precise recharge of the resin allowing the system to only recharge the depleted resin.
Upflow regeneration also drives hardness away from the resin to the drain instead of downflow that forces "dirty" water through the clean charged resin.
If the system drops below 3% a short recharge will restore the system to get to the regular 2:00 AM delayed regeneration time.
Green Technology that reduces salt discharge by as much as 75%.
---
What's Included
Genesis On Demand Metered 1 1/4" Control

10% Crosslink Aldex (Highest Durability and Capacity Resin)

3/4" and 1" Unique Bypass with Integrated Turbine Meter

Resin Tanks & Large Brine Tank with over 200 lbs of Salt Capacity

Salt Grid Prevents Salt Bridging

Safety Overflow Float Assembly
| | |
| --- | --- |
| Regeneration Type | Meter Initiated |
| Electrical Power Requirements | 120v/60hz |
| Warranty | 7 Years Control/ Lifetime Tanks |
Review this product
Share your thoughts with other customers
Write a Review
Nice product. Easy install.

Was delivered extremely quick and install was a breeze. Great product and company.

Water very soft love it ,easy install. Thanks

Outstanding Customer Service and great product

We knew we wanted/needed a water softener for our newly constructed home. Our plumber already had us set up for it (by bypassing the sprinkler system when he designed our plumbing) now it was time to decide what product fit our needs. We had consultants from local vendors come in and give us quotes and product choices but to add comfort to what they told us we decided to do our own homework and as a result found Discount Water Softeners. From our first call we knew this was an exceptional company but we kept calling and they kept answering our questions, returning our calls, clarifying our issues with engineering and helping us with every single strand of this decision process. We decided on the Genesis 2 upflow softener. We brought our plumber back and the install was as easy as their YouTube video illustrates. The change we saw in our water was felt in one day. The water test confirmed it. Could not be happier. We saved significant money buying direct. We honestly felt better going with this company than with a company that comes in with their "pitch" and limited product choices. I cannot stress enough how outstanding their customer service is. It left such a great impression we have been singing their praises to family and friends ever since. We already have two families making the calls done their own purchase. A softener decision is a once in a many years selection and we are so confident we made the right one thanks to the ladies and gentlemen at DWS.com. Support. Knowledge. Care. Concern. Post purchase support and answers to every single question imaginable. Bravo to this company and our sincere thanks too.

Genesis 2 Up Flow Water Softner

The whole process has been very good. Started out asking questions on the phone. Answers were helpful and knowledgeable. Their web site was good, useful and had the answers I was looking for. I ordered on line and that went very well. Received in 3 days. Packaged well. Took me three days to install because I set up the new one in advance (electronics) and a few connections. Also needed to prepare to disconnect my old one. Even though I did it over 3 days, that was my choice. Actual time to get it done from start to finish, doing it all at once, was about 3 hours. Customer videos on web site were very helpful and easy to understand. It has been running now for about 2 weeks and seems to be doing the job. Based on this point in time, I would have no hesitation in doing it again. I do recommend this company and product.

This product was easy to install after working out the plumbing to the appliance. Seems to be a much better quality with more options than other softeners. Works great so far! Free shipping, and quick/easy replacement of one part that was damaged in shipping. Overall very happy, and will recommend to others!

Great product cannot be happier. The quality and features are just right for on demand very hard water. Everything performs well, easy setup make this a great choice for the situation.

Thanks for offering this product

I was very satisfied with this product and this company during every step of the purchase. I did enquire with questions up front and received quick responses. After researching this and other water softeners I concluded this was the best product for the money. I purchased the item on a Monday and it was delivered that Wednesday, free shipping! The installation was easy since I had already removed an existing unit from my basement so the plumbing was already in place. The Quick Connect fittings made connecting the unit to my plumbing a breeze and they are very well made. Finally, the instructions and videos made setup and programming easy. I did get a water test prior to installation.

I installed this softener 1 month ago. The difference in the water is amazing. I also placed a sediment filter inline prior to the softener because I am on a community well utility. Sometimes when they switch wells, the water has a lot of sediment in it and I didn't want that going into my tank. I'm the only one in my household and the control head says I am still 700 gallons from regeneration. I'm happy with that. The only reason I gave 4 stars instead of 5 is the slowness for service staff to respond. 24-48 hours is pretty ridiculous especially if you are in the middle of a DIY install. Luckily I had nothing major and got through it. I understand the covid situation guys but I am self employed and answer every single email and phone call on a daily basis. If you can't go through them and prioritize, add an "installation in progress" button to your contact form. Overall it was a good experience. I would recommend.