Where efficiency and quality meet
Our exclusive features make Genesis water softeners the best solution for your family.
Family of will save 6,480 lbs. of salt and 28,900 gallons of water versus downflow water softeners

This system contains 10% Crosslink Aldex resin manufactured in North America

10 year control head/valve warranty, lifetime tank warranty, and 10 year resin warranty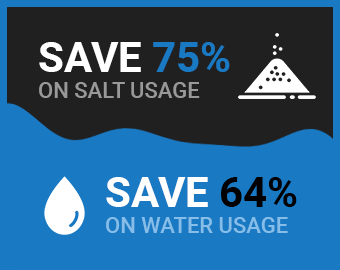 Fully Featured Genesis High Flow On Demand System
The most advanced water softener available today! Our Exclusive Genesis Revolution Maximum Flow On Demand metered digital water softener sets the new standard for high water flow while offering more features designed to make installation easier and faster than ever. Get maximum flow while saving you up to 75% on salt and 64% less water.

The Genesis Revolution design is the only water softener available online with full 1" porting throughout making it the best water softener available. Compared to other standard water softeners the Genesis Revolution sets the bar for high efficiency and performance. The Revolution outperforms even the highest priced dealer brands at half the cost or less.
Model Comparison
| | 32,000 | 40,000 | 48,000 | 64,000 | 80,000 | 96,000 |
| --- | --- | --- | --- | --- | --- | --- |
| Estimated People in Home* | 2-3 | 2-3 | 3-4 | 4-5 | 5-6 | 6-7 |
| Estimated Number of Bathrooms | 2-4 | 3-5 | 3-5 | 4-6 | 5-7 | 6-8 |
| Service Flow Rate @ 15 psi Pressure Drop | 14 GPM | 16 GPM | 16 GPM | 19 GPM | 23 GPM | 25 GPM |
| Required Backwash Rate | 2 GPM | 2.4 GPM | 2.4 GPM | 3.5 GPM | 4 GPM | 5 GPM |
| Salt Used - Regeneration | 6 lbs | 7.5 lbs. | 9 lbs. | 12 lbs. | 15 lbs. | 18 lbs. |
| Water Usage - Regeneration | 62.7 gal | 62.7 gal | 62.7 gal | 87.1 gal | 108.9 gal | 169.2 gal |
| Overall Dimensions (W x D x H) | 27x13x56 | 28x13x53 | 28x13x63 | 28x18x61 | 31x1x63 | 32x18x74 |
*Sizes are estimated based on actual water quality. Testing your water will assure properly sized systems
Even More Reasons to Love Genesis...
Compared to other standard water softeners, the Genesis Revolution sets the bar for high efficiency and performance.
Genesis Revolution On Demand control valve with electronic sensors, adjustable cycles, and proven seal and spacer design

True 1" porting design allows for higher flow rates for larger homes designed today

Soft Water Recharge Mode ensures soft water during usually heavy water usage

Large 4 line Touchpad LCD display. No confusing symbols or codes

Reverse Flow Regeneration preserves unused softening bed from unnecessary exchange saving salt

Upflow Brining calculates the precise amount of salt brine required to regenerate saving up to 30% more salt

Automatic Reserve adjusts based on your actual usage

Over 1 Million Tanks Sold with Zero returns

Automatic Backwash Variable Preset for clean municipal water by matching backwash frequency to water quality need saving you up to 2000 gallons of water annually

Soft Water Brine Tank Refill keeps the brine tank and injectors cleaner

Automatic System Refresh flushes stagnant water after 7 days of non-use preventing bacterial growth

Quick Connect features on bypass, drain line, and power cord

Engineered and assembled in the U.S.
---
Rethinking Regeneration.
Upflow regeneration allows for a more precise recharge of the resin allowing the system to only recharge the depleted resin.
Upflow regeneration also drives hardness away from the resin to the drain instead of downflow that forces "dirty" water through the clean charged resin.
If the system drops below 3% a short recharge will restore the system to get to the regular 2:00 AM delayed regeneration time.
Green Technology that reduces salt discharge by as much as 75%.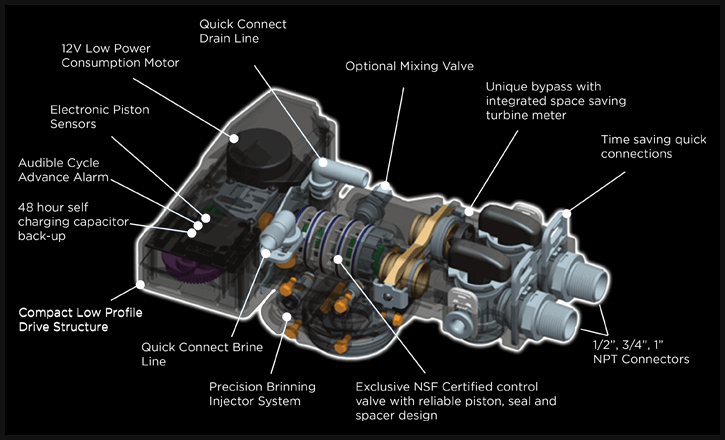 Valve Head
Utilizes a 30 year proven internal piston with seal/spacer design. Now with an enhanced piston stabilizer and seal design. 70% brine refill calculates the minimum amount of salt needed and reduces usage by 30% on every regeneration.
Advanced smart digital control provides precise brining customized to your water source reducing salt usage by as much as 45%.
Selective backwashing reduces water usage by up to 64% over standard water softeners.
Soft water brine refill keeps your brine tank cleaner and control head running smoother.
What's Included
Genesis On Demand Metered Control

1 cubic foot of 10% Crosslink Aldex (Highest Durability and Capacity Resin)

1" Unique Bypass with Integrated Turbine Meter

Resin Tanks & Large brine Tank with 200 lbs Salt Capacity

Tank Tux Jacket reduces tank sweating

Salt Grid prevents salt bridging

Safety Overflow float assembly
| | |
| --- | --- |
| Regeneration Type | Meter Initiated |
| Electrical Power Requirements | 120v/60hz |
| Warranty | 10 year control head/valve warranty, lifetime tank warranty, and 10 year resin warranty |
After extensive research, here's where I ended up

I can't speak to my experience with customer service because I had no need of their support, but the product itself is of high quality. The vessel is well made and the controller appears to be engineered to last. I believe that Discount Water Softeners has chosen to sell specific products that they know will perform as well as or better than the big names in the water treatment industry.

Anyone purchasing a water softener or filtration system should consider both the initial cost as well as the total cost of ownership. I had a Kinetico water softener that sprung a leak from a plastic cap with two screws. In order for me to purchase that plastic cap, I had to contact a local dealer who needed to make a service. Long story short, that cap came with a rebuild kit which included gaskets and rubber O-rings and the price for this kit was unbelievable. As a matter of fact, it was so much that I decided to buy a new system instead because I now know that every single replacement part to these "high end" systems are ridiculously overpriced!

If you are reading this wondering whether or not to purchase from Discount Water Softeners, take the word of a homeowner that has nothing to gain by leaving a good review about this company and it's products. Your in good hands!

Awesome softener! Can't be beat.

Moved into a new house and needed a new softener. My 21 year old Culligan unit was still going strong, but wasn't about to take that with me to the new digs. Found Discount Softeners and I was intrigued by the specs and prices. I ordered a Revolution unit, and it was at my door in a few days. Never installed one before, but with the quick-connect fittings.......it was pretty easy for a DIY person. I have had this unit in service for 2 years now and I am continually amazed at how little salt this thing uses! I think I bought 300 lbs. when I installed it, and I have yet to purchase more salt! I needed more capacity since I fill my hot tub with soft water every year, and have a large house with a family of 4. Could not be more pleased with my purchase! A comparable name brand unit costs at least three to four times what I spent on the Revolution!

My wife and I had a company out to give us an estimate on a water softening system. We've lived in our house for 8 years and have had to replace a refrigerator, dishwasher, washing machine and a water heater. The estimate from this other company was $4,700 for a water softener.
After doing some research I found that discount water softeners had a model with all the same features as the one the other company wanted to sell us but for a fraction of the price. I called discount water softeners a couple times and they were very helpful with my decision process.
I highly recommend discount water softener.

I extensively researched water softeners both locally and on line and came to the conclusion that the Genesis Revolution Water Softener was the one for me. I talked with a salesperson and found that I didn't need nearly as big of one that I thought was needed. It arrived as promised. I had a plumber install which took him a couple of hours. It is working fantastic. I just wish we would have added one years ago.

Very easy to install and set up pretty basic, I like the flow readout. I opened the faucet with 2 gallon per min aerator it. The read out on the display read 2.03 gpm flow. Pretty accurate. I was told to buy a 48000 grain unit from another company. I was told by the sales lady that was too big. I went with the 32000 and installed if myself over 3 weeks now and it has yet to regenerate. Could of even went down to 24k. I was thinking if I ever sell the house the new owners might need a bigger unit.
The low water and salt use for regen, is why I went with this unit.
I gave the value 4 is it seems a little pricey when you move up to the very best unit. I don't know if the difference is worth it? The better resin I believe is worth paying for. As far as the better head yet to be determined.

I called with a few questions and was directed to this genesis system. Looks very well built and easy to maintain. Had our plumber install. Seems to be working great. Love that you are a Google Trusted store too.

Was looking for a smaller water softener but did not want to have lower flow. This was a great fit for me. Easy to install and program too.