Where efficiency and quality meet
Our exclusive features make Genesis water softeners the best solution for your family.
The only water softener with Bluetooth control that is right for your family.

This system contains Aldex resin made in the U.S. and Canada of North America

7 year control head/valve warranty, lifetime tank warranty.
Fully Featured Genesis 2 Elite On Demand Water Softener System.
The only water softener featuring Bluetooth control available today! Our Exclusive Genesis 2 Elite On Demand metered digital Bluetooth water softener sets the new standard for programming, control and convenience

The Genesis 2 Elite design is the only water softener that allows you to program your system using your smartphone or tablet device on the same network. No other system can do that. You can also initiate a regeneration, monitor current and peak water usage. You can monitor daily, weekly and monthly water usage in your home at your fingertips. This system is based on a proven 30+ year seal and spacer design made famous by Fleck. All of that reliability with the Bluetooth control to make maintaining your system and water usage even easier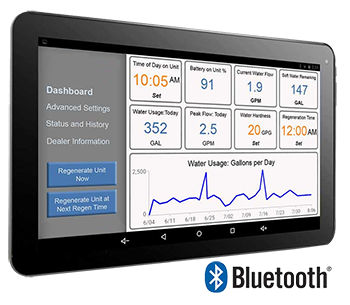 NEW FEATURE!

NOW WITH BLUETOOTH CONTROL!
Conveniently view all valve settings and status
Easily change valve settings
View current water usage information (metered system required)
Graphically view water usage information (metered system required)
Start a regeneration or backwash cycle from your phone or tablet
Better understand how your system is working and understand what settings are for
Connect to all of your valves in your system (if they are all Legacy View Valves)
Manage your connection to your valves

Model Comparison
| | 32,000 | 40,000 | 48,000 | 64,000 | 80,000 | 96,000 |
| --- | --- | --- | --- | --- | --- | --- |
| Estimated People in Home* | 2-3 | 2-3 | 3-4 | 4-5 | 5-6 | 6-7 |
| Estimated Number of Bathrooms | 2-4 | 3-5 | 3-5 | 4-6 | 5-7 | 6-8 |
| Service Flow Rate @ 15 psi Pressure Drop | 14 GPM | 16 GPM | 16 GPM | 19 GPM | 23 GPM | 25 GPM |
| Required Backwash Rate | 2 GPM | 2.4 GPM | 2.4 GPM | 3.5 GPM | 4 GPM | 5 GPM |
| Salt Used - Regeneration | 12 lbs | 15 lbs. | 18 lbs. | 24 lbs. | 30 lbs. | 45 lbs. |
| Dissolved iron Removal**(Up to) | 7ppm | 7ppm | 7ppm | 7ppm | 7ppm | 7ppm |
| Overall Dimensions (W x D x H) | 27x13x56 | 28x13x53 | 28x13x63 | 28x18x61 | 31x1x63 | 32x18x74 |
*Sizes are estimated based on actual water quality. Testing your water will assure properly sized systems
** Results may vary depending on overall water quality
Even More Reasons to Love Genesis...
Compared to other standard water softeners, the Genesis 2 Elite with Bluetooth control all in one.
Genesis 2 Elite On Demand control valve with electronic sensors, adjustable cycles, and proven seal and spacer design

True 1" internal porting design allows for higher flow rates for larger homes designed today

Soft Water Recharge Mode ensures soft water during usually heavy water usage

Large 4 line Touchpad LCD display. No confusing symbols or codes

Extended backwash ensures cleaner resin every time

Monitor and control your system with you smart device remotely on the same network

Automatic Reserve adjusts based on your actual usage

Over 1 Million Tanks Sold with Zero returns

Automatic Backwash Variable Preset for clean municipal water by matching backwash frequency to water quality need saving you up to 2000 gallons of water annually

Soft Water Brine Tank Refill keeps the brine tank and injectors cleaner

Automatic System Refresh flushes stagnant water after 7 days of non-use preventing bacterial growth

Quick Connect features on bypass, drain line, and power cord

Engineered and Built in the USA
---
Rethinking Softening.
The Genesis 2 Elite makes owning a water softener a 21st century experience. No more codes or button sequences to program. Simply download the free app and you will have full control of your Genesis 2 Elite system. Setup, monitoring and making changes are simple. No more guesswork, no more wondering when your system last regenerated or when it will regenerate next. Its all right in the palm of your hand.
Valve Head
Utilizes a 30 year proven internal piston with seal/spacer design. Now with an enhanced piston stabilizer and seal design. 70% brine refill calculates the minimum amount of salt needed and reduces usage by 30% on every regeneration.
Advanced smart digital control provides precise brining customized to your water source reducing salt usage and the need for costly iron filters.
Soft water brine refill keeps your brine tank cleaner and control head running smoother.
What's Included
Genesis 2 Elite On Demand Metered Control MADE IN THE USA

Aldex Resin made in the USA and Canada

1" Unique Bypass with Integrated Turbine Meter

Resin Tanks & Large brine Tank with 200 lbs Salt Capacity

Tank Tux Jacket reduces tank sweating (Optional)

Salt Grid prevents salt bridging

Safety Overflow float assembly
| | |
| --- | --- |
| Regeneration Type | Meter Initiated |
| Electrical Power Requirements | 120v/60hz |
| Warranty | 10 year control head/valve warranty, lifetime tank warranty, and 10 year resin warranty |
Review this product
Share your thoughts with other customers
Write a Review
Discount answered all my questions before the purchase. I received the unit within 24 hours or ordering it. Simple installation. Great price! So far...I could NOT be happier with my purchase and I am confident that will continue.