Reviews
READ VERIFIED REVIEWS ONLINE
WATER SOFTENER TESTIMONIALS RECEIVED FROM CUSTOMERS
The water softener is installed and working now. If anyone asks me about where to get a water softener, I will definitely recommend your company. You have been very helpful. This is the kind of customer support that people are looking for.
- Hetty, San Antonio, TX
I purchased a SoftSorb PW50 Whole House Water Softener/Conditioner-Iron & Manganese Filter-50 Grains from you on 10/29/07. I had very hard water (335 mg/L) and very high iron levels (3.7 mg/L). I could not be more happy with the quality of the water after putting in the system. It's like the water is now coming from an artesian well. But the best part of this purchase was the confidence I felt after working with your technical support team. I had a very short time to get the system purchased and installed. You expedited getting my water tested and results reported to me so I could get the right system. I also found your support staff to be very knowledgeable about the products they are selling. I could tell the person I spoke with had a wealth of experience with installing these systems and he discussed my concerns with me at length. I would classify my home improvement skills about the level of a handyman but not a plumber. When your support person found out that I was installing the system on my own at my cottage on a Saturday, he told me he would forward the company phone calls to his cell and keep an eye out for my number just in case I had any problems. I have purchased hundreds of products on the internet and this was the best customer service I have ever received from any company.
- Joseph E., National City, Michigan
I had a water softener and filter installed by you guys in my last home and it was like night and day. My water was extremely hard and smelled like rotten eggs really bad. After your install, it was like a whole new water supply. Soft water and zero smell. Yea, no more rotten egg water. I think The Eliminator Iron/Sulfur filter system you sell should be called the "De-Stinker". I just had a water softener installed by you guys in my new home too. Your service guys were clean, professional, and courteous as usual. You're one guy even helped show me a better way to add salt to the softener. You guys have my vote for the #1 water treatment company out there. Thanks again
- Alice J, Cary, IL
Hi folks,
Wow, talk about fast delivery! I ordered this softener yesterday and here it is noon today and it's sitting down in my basement. I went to your site & there were the installation instructions. This has been a very pleasant experience. Regards,
- Mark & Mary Beth T, Lawrenceburg, IN
I ordered a Fleck 7000 water softener and ph neutralizer from you guys on a Monday. Not only did it show up on Wednesday, your tech support person was awesome to work with. He no doubt has hands on experience with these systems. He walked me through every step without even 1 single problem. I am no plumber but, with your guys help, I could probably install these systems myself in the future and I may very well do that. When I told my neighbor what a great experience I had with Discount Water Softeners, and he wants to order a system from you for his house too. A VERY satisfied Customer,
- Lloyd, Hackettstown, NJ
I received the unit on Wednesday and installed it. Nice product went in smoothly. Thanks for the quick service.
- Bob C., Bloomfield, NY
Thank you again! I am well satisfied with your hardware and your customer service. Keep up the good work!
- Donald, Plymouth, NY
The installation went great. The system works well.
Thanks Guys.
- Bill
Dear Discount Water Softeners,
I recently (Aug.6 2007) purchased a Softsorb water softener/conditioner for my new home. I could not be happier with this treatment system! At my old house, I was constantly lugging 40lb. bags of salt down my basement stairs every 2 months. It was a huge hassle. Never again! The Softsorb system is great! No more salt! No more hassle!
Your Very Happy Customer,
- Steve, Ramsey, MN
Thank you for the fast delivery! I ordered my water softener on Wednesday and installed it on Saturday. I have soft water in 3 days. I can't wait to install the reverse osmosis system.
Thanks,
- April and Jim F., Tampa, FL
Follow Up:
I finally installed the reverse osmosis system today. What a difference! Our water tastes just like the bottled water we buy. It looks like a nice solid system too You guys are great. I already told my neighbor about you guys. I think he will be calling you.
Thanks Again,
- April and Jim F., Tampa, FL
I finally got around to taking some pictures of the install! They look ok I guess. Everything seems to be working good, as the water is much softer and smells better too. It's funny as I told my neighbor about my new softener the day I was installing it and she mentioned she just went with a local water shop and bought a whole new softener setup from them and had them install it too!! I told her that I went online and ordered from you and saved a lot of money! :)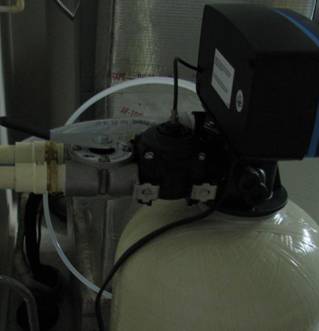 Shane, Jacksonville, FL