Warranties, Water and Salt Savings
Installing an upflow water softener can solve a multitude of hard water problems. These range from the inefficient operation of appliances, to soap scum and clogged pipes. Homeowners face a purchasing dilemma—big-box store or small local dealer? The answer is based on warranty, operational costs including salt and water usage, and long-term performance.
Selecting a water softener system demands careful consideration. No different than any other investment in the health and well-being of a family. Proper water softening can make an immeasurable difference in the purity of a home's water. Working with a trusted professional can turn a stressful situation into a satisfying experience. A water treatment professional will help with sizing and application. The correct system will provide long-term protection of a home's water supply.
You Get What You Pay for
When researching options for upflow water softeners, maintenance and long-term support should rank high on the list of requirements. While Sears, Home Depot and Lowe's may occasionally offer better-priced alternatives there is a sacrifice of quality. GE, Sears, Kenmore, and other off-the-shelf brands are made cheaper to drive sales--not performance. This is evident in the much shorter warranty periods offered.
Homeowners don't get the same value buying systems like a GE water softener at Home Depot or a Kenmore water filter at Sears as they would from a local expert committed to both incomparable quality and customer service.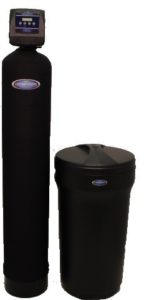 The Genesis upflow water softeners have the same upflow, water and salt savings features with a 10-year warranty that Kinetico and Culligan sell, but for thousands less.
Big-box water softeners and filtration systems are resold from suppliers at the lowest cost in order to provide the highest markup for profit. While production costs remain the same, product quality suffers, as suppliers need to stay competitive in the big-box market. Using cheaper materials and labor puts homeowners at risk for costly repairs in the future. And once the purchase is made, the hassle of trying to get assistance from a retail giant if something should go wrong can be futile. Earlier replacement is also a cost factor that must be weighed.
Additionally, big-box suppliers are frequently changed to minimize costs. These changes lead to stores not always having repair parts available even after a short time. This makes maintenance of a water system an aggravation for homeowners.
More often than not, stores like Home Depot, Sears, and Lowe's require customers to send faulty parts back to the manufacturers directly--instead of the store where it was purchased. This tends to be a huge frustration for homeowners. Customers returning to the store for support may not find answers either, as employees aren't trained to answer more than extremely basic questions.
A "one sizes fits all" big-box approach doesn't fit the system with the household or house itself. What may amount to a small discount buying their system results in a substantial loss in service, quality, and efficiency.
Customizing the Water System
The first step in purchasing a water softener is to determine the correct system for a household's consumption. A reputable water treatment company is best able to establish the right size and specifications. This is based on how hard the water is and how much water is being used. Purchasing from home improvement stores is a guessing game, as sales employees lack the knowledge to help choose the appropriate system.
The "push for a quick sale" can result in the installation of an unsuitable unit and loads of wasted water and salt. When problems arise, having a professional technical support person to consult with provides answers and solutions.
A professional will assist with water testing, verify that the homeowner has all the correct information and everything they need to ensure long-term, successful water treatment. Sizing by a trained expert will ensure correct settings for water softener regeneration and address any other water concerns so the system works as efficiently as possible.
Dealers have the advantage of tailoring a system to the homeowner's needs, which provides customers with peace of mind when investing in water softener solutions. Making the wrong choice in a water softener means higher water bills, added salt usage, and a shortened lifespan of the system.
Thinking Outside the Box
Supporting small businesses is beneficial to the customer. Dealers can provide knowledge, guidance, and the long-term assistance that Home Depot, Lowe's, and Sears simply can't. Skilled professionals will ask the right questions before an installation. On the contrary, a big-box store will only ask a homeowner what type of water softener they would like, instead of finding out the details that personalize a purchase for each household.
Dealers like Discount Water Softeners make sure families are satisfied with their purchase, offer solutions, and give clarification, instead of hiding behind the anonymity of a big-box name.
Anticipating that homeowners will need future assistance when it comes to replacing parts, or troubleshooting issues, a dealer offers immediate support. Water softening systems might require care and maintenance to function as designed. Improvement stores can't follow-up with customers.
With the purchase of a dealer water treatment system, customers receive a long-term commitment from experienced professionals. Inexperienced and hard to find sales help is a common complaint of homeowners purchasing retail. Why not think outside the box, contact a dealer, and let them help?
Product and Service After the Sale
Discount Water Softeners stands by their products and installation guides. Trusted experts for over 25 years guarantees superior service. All components and systems are tested for quality and performance. The factory trained sales team provides correct sizing and solutions. Top-notch customer service is supplied before, during, and after installation, never leaving homeowners high and dry. Developing a solid relationship with a dealer rewards customers with an invaluable resource for years to come.
When high standards are compromised by purchasing from Home Depot, Sears and Lowe's, customers never know what to expect. With a water treatment company, homeowners can anticipate hard-working professionals, putting in the time and effort to build custom systems that are built to last and backed by unmatched warranties. Industry giants just can't compete with that level of support.
Many big-box stores have one-year limits on their warranties and end up falling short when homeowners really need them. Dealers never deny customers the first-rate service they deserve because they stand by the products they sell, and more importantly, for the long-haul. Warranty service is timely, and homeowners never have to worry about parts becoming unavailable or discontinued.
When it comes to good, old-fashioned service, savvy customers will shy away from big-box stores--and with good reason. Attentive, knowledgeable professionals are hard to come by with retail giants.
Discount Water Systems not only offers the best Genesis upflow water softener systems, they never stop working for a homeowner's loyalty and trust. This means exceptional service before, during and after installation.