Where efficiency and quality meet
Our exclusive features make Genesis water softeners the best solution for your family.
Family of 4 will save 6,480 lbs. of salt and 28,900 gallons of water versus downflow water softeners

This system contains 10% Crosslink Aldex resin manufactured in North America

10 year control head/valve warranty, lifetime tank warranty, and 10 year resin warranty.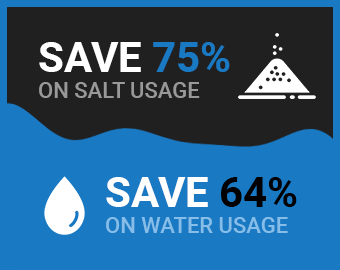 Genesis Premier Water Softener, Digital Metered, On Demand, High Efficiency Up Flow
Our Exclusive Genesis Premier Upfllow On Demand metered digital water softener is a premier water softening system that sets the new standard for high performance while offering more features designed to make installation easier and faster than ever.
With the most advanced features and a simple design for easy programming and installation, the Genesis Premier system is a "set and forget" system! No need to ever worry about reprogramming or resetting the time. Adding to that is a "No Touch" information display that rotates key information, flow rates, the last regeneration date and volume remaining until next regeneration. It also has a non-volatile memory standard that will never allow your system settings to ever be lost. You can custom set cycle settings for the most efficient salt settings saving you time and money. All this while still saving you up to 75% on salt usage and 64% on water over other on-demand systems.
---
Model Comparison
| | 24,000 | 32,000 | 40,000 | 48,000 | 64,000 | 80,000 | 96,000 |
| --- | --- | --- | --- | --- | --- | --- | --- |
| Estimated People in Home* | 1-2 | 1-2 | 2-3 | 3-4 | 4-5 | 5-6 | 6-7 |
| Estimated Number of Bathrooms | 1 | 1-2 | 2-3 | 2-4 | 3-5 | 3-6 | 4-7 |
| Service Flow Rate @ 15 psi Pressure Drop | 6 GPM | 12 GPM | 12 GPM | 15 GPM | 17 GPM | 19 GPM | 21 GPM |
| Required Backwash Rate | 1.8 GPM | 2 GPM | 2.4 GPM | 2.4 GPM | 3.5 GPM | 4 GPM | 5 GPM |
| Salt Used - Regeneration | 5 lbs | 6 lbs. | 7.5 lbs. | 9 lbs. | 12 lbs. | 15 lbs. | 18 lbs. |
| Water Used - Regeneration | 38.6 | 43.4 gal. | 62.7 gal. | 62.7 gal. | 87.1 gal. | 114 gal. | 139.2 gal. |
| Overall Dimensions (W x D x H) | 26x13x52 | 26x13x52 | 27x13x56 | 28x13x62 | 31x18x59 | 31x18x61 | 31x18x74 |
*Sizes are estimated based on actual water quality. Testing your water will assure properly sized systems
---
Even More Reasons to Love Genesis...
Genesis Premier On Demand Upflow control valve with electronic sensors, adjustable cycles, and proven seal and spacer design

Soft Water Recharge Mode ensures soft water during usually heavy water usage

Reverse Flow Regeneration preserves unused softening bed from unnecessary exchange saving salt

Upflow Brining calculates the precise amount of salt brine required to regenerate saving up to 30% more salt

Over 1 Million Tanks Sold with Zero returns

Automatic Backwash Variable Preset for clean municipal water by matching backwash frequency to water quality need saving you up to 2000 gallons of water annually

Soft Water Brine Tank Refill keeps the brine tank and injectors cleaner

Automatic System Refresh flushes stagnant water after 7 days of non-use preventing bacterial growth

Engineered and assembled in the U.S.
Rethinking Regeneration.
Upflow regeneration allows for a more precise recharge of the resin allowing the system to only recharge the depleted resin.
Upflow regeneration also drives hardness away from the resin to the drain instead of downflow that forces "dirty" water through the clean charged resin.
If the system drops below 3% a short recharge will restore the system to get to the regular 2:00 AM delayed regeneration time.
Green Technology that reduces salt discharge by as much as 75%.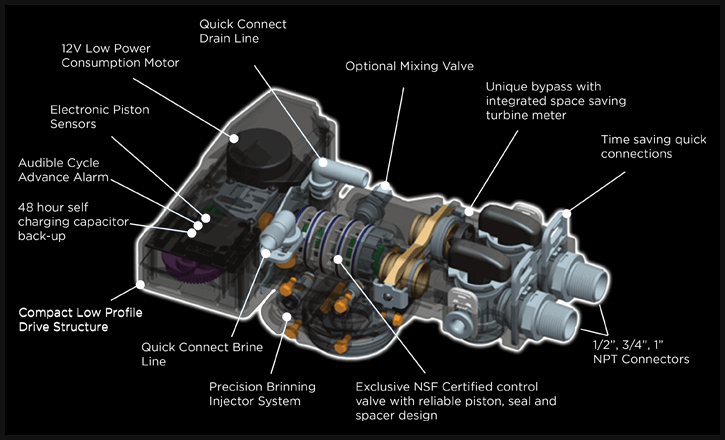 Valve Head
Utilizes a 30 year proven internal piston with seal/spacer design. Now with an enhanced piston stabilizer and seal design. 70% brine refill calculates the minimum amount of salt needed and reduces usage by 30% on every regeneration.
Advanced smart digital control provides precise brining customized to your water source reducing salt usage by as much as 45%.
Selective backwashing reduces water usage by up to 64% over standard water softeners.
Soft water brine refill keeps your brine tank cleaner and control head running smoother.
What's Included
Genesis Premier Upflow On Demand Metered Control

10% Crosslink Aldex (Highest Durability and Capacity) Resin

3/4" and 1" unique bypass with integrated turbine meter

Resin tank with large brine tank holds over 200lbs of salt.

Tank Tux Jacket reduces tank sweating

Salt Grid prevents salt bridging

Safety Overflow float assembly
| | |
| --- | --- |
| Regeneration Type | Meter Initiated |
| Electrical Power Requirements | 120v/60hz |
| Warranty | 10 year control head/valve warranty, lifetime tank warranty, and 10 year resin warranty. |
Easy programming and support was great

I had a Fleck for years, but it started leaking and I needed a new softener for our house. Our hardness isn't too bad and there are only two of us, so I called with some questions and decided to purchase this system. Support was great and the install was easy. Knowing we're now saving money on water in California with the drought was a big deal for us, and salt savings is great, too. Thanks for your help and the interface on the system is better than any I've ever seen before.

Service, shipping and installation ease

Very fast at returning answers to any questions I had Shipping was lightning fast! The installation instructions were pretty straight forward and easy to understand and the installation could not be any easier using the optional connection kit. Once the house plumbing was complete, it took about 30 minutes to install the softener and have it up and running.
You could save $20 buying similar hoses elsewhere but you add installation time and there would be two additional connections to fittings made versus just using the optional push on/in hose kit so its just not worth doing so in my opinion.

Soft water, salt savings, and water savings! Awesome!

We replaced our old GE water softener from Home Depot with the Genesis Premier and it's a huge improvement. Our water is soft and it's using a lot less salt and water. A nice upgrade for the house that was worth every penny.

works like it should very efficient uses little salt upgraded from a 15 year old system that never worked right my water is perfect know easy setup installed myself

Bought the Genesis Premier upflow softener. I delt with my Autotrol for 12 yrs and finally got tired of constent problems. The installation of the Genesis was a breeze. The softener performed just like it was supposed to. It's been in for a week. So far so good. It's very user friendly and easy to understand. I would recommend it.

We have had it in for 1 week. Our water started at 15 GPG hardness and now tests at 0. The unit is quieter than our old unit. It doesn't wake me at 2 AM. The installation was straight forward by following the directions. The quick connect kit is well worth the investment. The programming is very simple and the display info lets you know exactly how much soft water potential remains and how long till the next regen. The unit is a big upgrade from our 17 year old Culligan.

I purchased premiere 32000 and twist 2 clean sediment filter as Bill recommended after talking a few time not knowing much about water softener. I installed my self in about 2 hours and notice a big difference in my water qualityafter about a week. I will definitely buy from them again. Thanks Bill for all the info I'm glad I purchased from you guys.

Genesis Premeir and DWS review

I received my 32000 grain Genesis Premeir water softener several weeks ago, so long term evaluation of its performance is not possible. The system received was as advertised and shipped promptly without problems. I had it professionally installed without trouble, but in programming the system I tried to follow the quick start-up guide and YouTube video. It was stressed in the video that after the valve was programmed, you make sure the delayed regeneration setting is "on". This is to make sure the system has regenerated promptly so it can make soft water. That's great, but it was not mentioned in the quick-start guide or the video that the delayed regeneration setting needs to be reset to "off" after the 1st regeneration. Otherwise the system regenerates daily at the set time. When my system was regenerating daily for awhile, I was finally able to reach someone in customer support and got this problem straightened out. I never could reach someone on the phone and it took 3 emails to get a response. In summary, theoretically the technology is an improvement over previous technology and the warranty is excellent.

Genesis Premier 32000 Grain

Bill was extremely helpful and knowledgeable and after getting all the information on the Fleck and the Genesis, I decided to try the Genesis. We had a Fleck prior to this purchase and had no issues with it. In the end I choose the Genesis because of better efficiency and a great warranty. Delivery was in about 2 days. Installation was only about 2 hours and removing the old softener was more difficult than installing the new. I utilized the Flex Hose kit that Bill recommended and am very glad I did. I strongly recommend this hose kit. We are extremely satisfied with the performance of the Genesis and the service from Discount Water Softeners. On price and value I only gave 4 stars because the price of the Fleck, which was a great softener, is much less.