Where efficiency and quality meet
Our exclusive features make Genesis water softeners the best solution for your family.
Family of 4 will save 6,480 lbs. of salt and 28,900 gallons of water versus downflow water softeners

This system contains 10% Crosslink Aldex resin manufactured in North America

7-Year Control Head/Valve Warranty and Lifetime on Resin and Brine Tank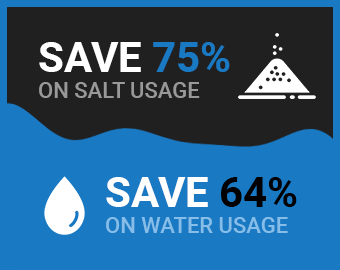 Genesis High Efficiency Water Softener
Our Exclusive Genesis Upflow On Demand metered digital water softener is an UpFlow water softening system that sets the new standard for high-performance while offering more features designed to make installation easier and faster than ever. All while saving you up to 75%* on salt and 64% less water. *May be lower with 10% crosslink resin
---
Model Comparison
| | 32,000 | 40,000 | 48,000 | 64,000 | 80,000 | 96,000 |
| --- | --- | --- | --- | --- | --- | --- |
| Estimated People in Home* | 1-2 | 2-3 | 3-4 | 4-5 | 5-6 | 6-7 |
| Estimated Number of Bathrooms | 2-3 | 3-4 | 3-4 | 3-5 | 4-6 | 4-7 |
| Service Flow Rate @ 15 psi Pressure Drop | 12 GPM | 15 GPM | 15 GPM | 17 GPM | 19 GPM | 21 GPM |
| Required Backwash Rate | 2 GPM | 2.4 GPM | 2.4 GPM | 3.5 GPM | 4 GPM | 5 GPM |
| Salt Used - Regeneration | 6 lbs. | 7.5 lbs. | 9 lbs. | 12 lbs. | 15 lbs. | 18 lbs. |
| Water Used - Regeneration | 43.4 gal. | 62.7 gal. | 62.7 gal. | 87.1 gal. | 114 gal. | 139.2 gal. |
| Overall Dimensions (W x D x H) | 26x13x52 | 27x13x56 | 28x13x62 | 31x18x59 | 31x18x61 | 31x18x74 |
*Sizes are estimated based on actual water quality. Testing your water will assure properly sized systems
---
Even More Reasons to Love Genesis...
Genesis Upflow On Demand control valve with electronic sensors, adjustable cycles, and proven seal and spacer design

Soft Water Recharge Mode ensures soft water during usually heavy water usage

Reverse Flow Regeneration preserves unused softening bed from unnecessary exchange saving salt

Upflow Brining calculates the precise amount of salt brine required to regenerate saving up to 30% more salt

Over 1 Million Tanks Sold with Zero returns

Automatic Backwash Variable Preset for clean municipal water by matching backwash frequency to water quality need saving you up to 2000 gallons of water annually

Soft Water Brine Tank Refill keeps the brine tank and injectors cleaner

Automatic System Refresh flushes stagnant water after 7 days of non-use preventing bacterial growth

Engineered and assembled in the U.S.
---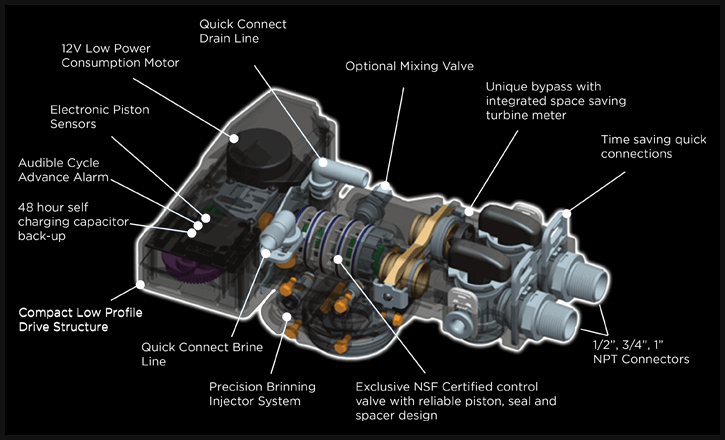 Valve Head
Utilizes a 30 year proven internal piston with seal/spacer design. Now with an enhanced piston stabilizer and seal design. 70% brine refill calculates the minimum amount of salt needed and reduces usage by 30% on every regeneration.
Advanced smart digital control provides precise brining customized to your water source reducing salt usage by as much as 45%.
Selective backwashing reduces water usage by up to 64% over standard water softeners.
Soft water brine refill keeps your brine tank cleaner and control head running smoother.
Rethinking Regeneration.
Upflow regeneration allows for a more precise recharge of the resin allowing the system to only recharge the depleted resin.
Upflow regeneration also drives hardness away from the resin to the drain instead of downflow that forces "dirty" water through the clean charged resin.
If the system drops below 3% a short recharge will restore the system to get to the regular 2:00 AM delayed regeneration time.
Green Technology that reduces salt discharge by as much as 75%.
---
What's Included
Genesis On Demand Metered Control

10% Crosslink Aldex (Highest Durability and Capacity Resin)

3/4" and 1" Unique Bypass with Integrated Turbine Meter

Resin Tanks & Large Brine Tank with over 200 lbs of Salt Capacity

Salt Grid Prevents Salt Bridging

Safety Overflow Float Assembly
| | |
| --- | --- |
| Regeneration Type | Meter Initiated |
| Electrical Power Requirements | 120v/60hz |
| Warranty | 7 Years Control/ Lifetime Tanks |
Review this product
Share your thoughts with other customers
Write a Review
Good Equipment, good install manuals

Upon having some issues with install, I called customer service and emailed. They responded fairly promptly.

Originally posted on Bizrate in January. System is still going strong: Wasn't sure which water softener to buy and looked at the Genesis system after reading the great reviews. Wow, am I glad I did. After literally a week of being installed in our house this system is softening the water and uses hardly any salt. With 6 people in our home we would use 5 bags of salt a month. Now it looks like we will use closer to 2 bags.

These guys are great!

Culligan came out and wanted over 3 times as much for their version of this system. Had my buddy install it and saved tons.

Great customer service. Great product.

Great customer service as well as water softener. Read great reviews on Amazon which led me to their website where i ordered recommended softener after talking to a rep about out water numbers. After first regeneration my wife and 2 teenage daughters both said how soft and full their hair felt. Thanks for everything. It's refreshing to actually get great services along with great products.


Good value for money, very satisfied with product

I researched various water softeners with all sorts of different claims but could not decide on which model or name brand to buy. In my previous home I had a Water Boss softener from Home Depot installed with poor performance and unsatisfactory results. The Genesis high efficiency water softener which i decided to install in my new home works great, looks high tech and uses very little salt. The regeneration period is quiet and quick. I would recommend this product to any person in need of a water softener. The price of the Genesis water softener is comparable to other name brand softeners sold at the retail stores and less expensive than private water softeners companies.

Nice unit, does as advertise and now we have soft water:)


Live in community with very hard water. Was tired of going through so much salt and water. Purchased the Genesis High Efficiency unit, very easy to install. Unit has been running for (1) month, we have extremely soft water. My wife and kids have commented on how soft the water is, so far using very little salt. Time will tell if this product holds up, so far, very pleased with this product.

Genesis High Efficiency 40,000 Grain Water Softener,

I'm an electrical contractor, very handy and not afraid to tackle any job.....My old softener started throwing granules out after 21 years. I have no idea of life expectancy and began to learn I was 2x overdue.....Had no idea where to start.....Found Discount Water on a Google search, tested my hardness with a pool test kit, and did the mathe adder for iron from my well. Placed an order for the 40K system and within two days it arrived during the Christmas shipping season...UNBELIEVABLE! That evening within 2 hours had my old system out, and the new system up and running. I assure you, the directions are simple, the videos are extremely helpful. I didn't buy the flex connections, however if you want to save time and plumbing work, order the flex connectors.......My system is now running 6 days and no backwash yet, this system will likely save me 50-60% of my old system salt usage.