Where efficiency and quality meet
Our exclusive features make Genesis water softeners the best solution for your family.
Family of 4 will save 6,480 lbs. of salt and 28,900 gallons of water versus downflow water softeners

This system contains 10% Crosslink Aldex resin manufactured in North America

10 year control head/valve warranty, lifetime tank warranty, and 10 year resin warranty.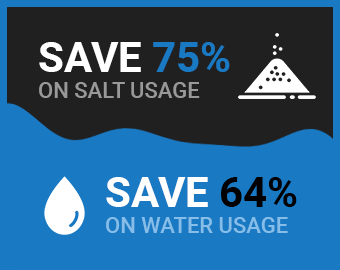 Genesis Duo High Efficiency Water Softener and Whole House Chlorine Filtration System
Our Exclusive Genesis Duo High Efficiency Water Softener and Whole House Filtration System is a premier water softening system and whole house filtration system all in one that sets the new standard for high performance while filtering all of the water in your home. All while saving you up to 75% on salt and 64% less water.
With the most advanced features and a simple design for easy programming and installation, the Genesis Upflow TA system is a "set and forget" system! No need to ever worry about reprogramming or resetting the time. Adding to that is a "No Touch" information display that rotates key information, flow rates, the last regeneration date and volume remaining until next regeneration. It also has a non-volatile memory standard that will never allow your system settings to ever be lost. You can custom set cycle settings for the most efficient salt settings saving you time and money. All this while still saving you up to 75% on salt usage and 64% on water over other on demand systems. Not for use on private well waters or water high in iron unless fully tested first.
Model Comparison
| | 32,000 | 40,000 | 48,000 | 64,000 |
| --- | --- | --- | --- | --- |
| Estimated People in Home* | 1-3 | 2-4 | 3-5 | 4-6 |
| Estimated Number of Bathrooms | 1-2 | 2-4 | 2-4 | 3-5 |
| Service Flow Rate @ 15 psi Pressure Drop | 7.2GPM | 7.4 GPM | 7.4GPM | 10 GPM |
| Required Backwash Rate | 4 GPM | 5 GPM | 5 GPM | 10 GPM |
| Salt Used - Regeneration | 6 lbs. | 7.5 lbs. | 9 lbs. | 12 lbs. |
| Water Usage - Regeneration | 49.6 | 64.3 | 64.3 | 86.2 |
| Overall Dimensions (W x D x H) | 52x13x56 | 52x13x56 | 52x13x62 | 56x18x60 |
*Sizes are estimated based on actual water quality. Testing your water will assure properly sized systems
Even More Reasons to Love Genesis...
Genesis Premier On Demand High Flow control valve with electronic sensors, adjustable cycles, and proven seal and spacer design

Complete Whole House Filtration using Catalytic carbon for chlorine and chloramine removal in a separate tank to optimize performance. Not for use with high iron

Carbon is for use when chlorine is present in your water. It is not for use with private wells without chlorination.

Soft Water Recharge Mode ensures soft water during usually heavy water usage

Reverse Flow Regeneration preserves unused softening bed from unnecessary exchange saving salt

Upflow Brining calculates the precise amount of salt brine required to regenerate saving up to 30% more salt

Over 1 Million Tanks Sold with Zero returns

Automatic Backwash Variable Preset for clean municipal water by matching backwash frequency to water quality need saving you up to 2000 gallons of water annually

Soft Water Brine Tank Refill keeps the brine tank and injectors cleaner

Automatic System Refresh flushes stagnant water after 7 days of non-use preventing bacterial growth

Engineered and assembled in the U.S.
What's Included
Genesis On Demand Metered Control

10% Crosslink Aldex (Highest Durability and Capacity Resin)

Catalytic Carbon

3/4" and 1" Unique Bypass with Integrated Turbine Meter

Resin Tanks & Large Brine Tank with up to 200 lbs Salt Capacity

Tank Tux Jacket reduces tank sweating

Salt Grid prevents salt bridging

Safety Overflow float assembly
| | |
| --- | --- |
| Electrical Power Requirements | 120v/60hz |
| Internal Port Size | 1" Upflow |
| Warranty | 10 Years Control/ Lifetime Tanks |
Review this product
Share your thoughts with other customers
Write a Review
This is the second system that I have purchased from DWS. The first one lasted 11 years and I'm hoping for 10+ years from this one. Fast shipping...2 days to the door step. Installation was about as easy and straight forward as it gets. Softener works as it should and the carbon filter is great. Wish I would have added it years ago. I left a voicemail and it took a bit to get a callback. Not too concerned since I had already dealt with them before and knew what I wanted.

I called not really knowing what the best solution was for my water. I wanted to fix the hardness problem and get rid of the chlorine. The knowledgeable support person helped me find my water hardness and told me about the Genesis Duo. The system works exactly as he said it would and I now love my water.


Great products, quick delivery, directions need updating

After buying a GE water softener from Home Depot & being unhappy for a year I finally decided to do an upgrade. I did lots of comparing products & was ready to buy a popular name brand unit. After further comparison I went for the Genesis. I'm a hands on guy & did my own install. Directions had small pictures, some things were pre-installed & some things were not needed. Directions could use some updating. Sales, answers to install questions were answered immediately, delivery was fast & product has worked perfect. I have only been using it for 2 weeks but so far so good. Today is 4-5-17.

Previously I owned a General Ionics softener/filter for 15 yrs and it was time for a new system due to a smell from the bathroom fixtures. I did the research and picked the Genesis Duo 32,000. I have 10 grain hardness...
The system install went well but I would suggest purchasing the quick pro easy install lines...Made the install very easy...
Water quality: the system was programmed and running like it should....hopefully we will get 15 yrs+...

Packaging issue the one cylinder cardboard was not secured when it was delivered to my home.
Overall a positive experience I would recommend.

price: comparable to others in the market
Value: right know great...
Quality: I'll let you know in years to come...

Note: you have to get your water tested before getting the correct size...They don't supply a kit.

My husband and I ordered online after calling with questions. Our order shipped within a day and we received it 2 days later. Very happy to have softened water again and no more chlorine smell!!


We purchased the Genesis Duo 32,00 Grain Softener and Whole House Chlorine Filter combo for our new construction home. Between the instructions and a few You Tube videos we had it installed.

We did one regeneration after install and then poured a glass of water. It smelled awful, specifically a very chemical scent and was slimy. Forced another regeneration and the smell and sliminess were all gone. No floating particles in the water, no smells and coffee and tea are nice and clear. Just what we wanted.

Tested the water before install at 12 grains of hardness per gallon and after >1 grain per gallon of hardness.

Last night neighbors were complaining about the chlorine smell in the water which we don't have. So nice to know our carbon filter is doing its job.

Back in January I bought this system because these guys were local. they actually delivered it themselves. The delivery guy even helped explain a few tips for installation. Can't beat that. Highly recommend these guys