Where efficiency and quality meet
Our exclusive features make Genesis water softeners the best solution for your family.
Family of 4 will save 6,480 lbs. of salt and 28,900 gallons of water versus downflow water softeners

This system contains 10% Crosslink Aldex resin manufactured in North America

7-Year Control Head/Valve Warranty and Lifetime on Resin and Brine Tank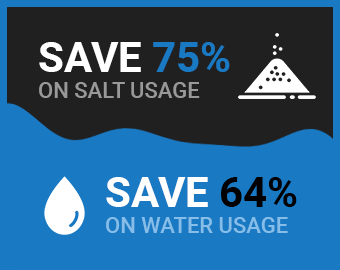 Genesis Dual Pass High Efficiency Water Softener System
Our Exclusive Genesis Dual Pass High Efficiency Water Softener System is a one of a kind premier water softening system designed specifically for extremely hard waters over 75 grains per gallon of hardness. Tank 1 removes majority of the hardness while tank 2 refines the already reduced hardness water to near or at 0 hardness levels. Our dual pass system eliminates the need for a second water softener on the high hardness waters above 75 grains per gallon.Genesis dual pass water softener for extremely high water hardness when a single tank system simply cannot remove all of the hardness.
With the most advanced features and a simple design for easy programming and installation, the Genesis Dual Pass system is a "set and forget" system! No need to ever worry about reprogramming or resetting the time. Adding to that is a "No Touch" information display that rotates key information, flow rates, the last regeneration date and volume remaining until next regeneration. It also has a non-volatile memory standard that will never allow your system settings to ever be lost. You can custom set cycle settings for the most efficient salt settings saving you time and money.
Model Comparison
| | 32,000 | 40,000 | 48,000 | 64,000 |
| --- | --- | --- | --- | --- |
| Estimated People in Home* | 1-2 | 2-3 | 2-4 | 3-5 |
| Estimated Number of Bathrooms | 1-2 | 1-3 | 2-4 | 3-5 |
| Service Flow Rate @ 15 psi Pressure Drop | 10 GPM | 12 GPM | 14 GPM | 16 GPM |
| Required Backwash Rate | 2 GPM | 2.4 GPM | 2.4 GPM | 2 GPM |
| Salt Used - Regeneration | 24 lbs. | 30 lbs. | 36 lbs. | 48 lbs |
| Water Used - Regeneration | 87.1 gals | 114 gals | 139.2 | 174.2 |
| Overall Dimensions (W x D x H) | 54x18x52 | 54x18x52 | 54x18x62 | 58x18x60 |
*Sizes are estimated based on actual water quality. Testing your water will assure properly sized systems
Even More Reasons to Love Genesis...
Genesis Premier On Demand High Flow control valve with electronic sensors, adjustable cycles, and proven seal and spacer design

Soft Water Recharge Mode ensures soft water during usually heavy water usage

Reverse Flow Regeneration preserves unused softening bed from unnecessary exchange saving salt

Upflow Brining calculates the precise amount of salt brine required to regenerate saving up to 30% more salt

Over 1 Million Tanks Sold with Zero returns

Automatic Backwash Variable Preset for clean municipal water by matching backwash frequency to water quality need saving you up to 2000 gallons of water annually

Soft Water Brine Tank Refill keeps the brine tank and injectors cleaner

Automatic System Refresh flushes stagnant water after 7 days of non-use preventing bacterial growth

Engineered and assembled in the U.S.
What's Included
Genesis On Demand Metered Control

10% Crosslink Aldex (Highest Durability and Capacity Resin)

3/4" and 1" Unique Bypass with Integrated Turbine Meter

Resin Tanks and Large Brine Tank

Salt Grid prevents salt bridging

Safety Overflow float assembly
| | |
| --- | --- |
| Regeneration Type | Meter Initiated |
| Electrical Power Requirements | 120v/60hz |
| Warranty | 7-Year Control Head/Valve Warranty and Lifetime on Resin and Brine Tank |